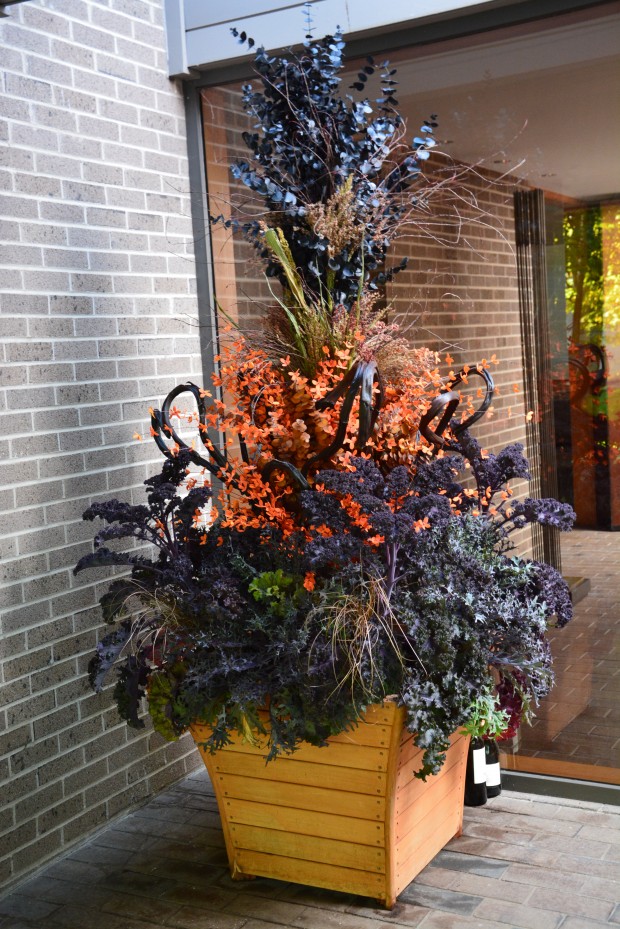 Though most of my work involves landscape design and installation, I have a big love for container plantings. They can be different every year – what a relief to let go of something that didn't work out so well.   Best of all, they can be planted for every season.  The beginning of any new gardening season sets me to thinking about how I would like to plant the pots. Unlike my landscape, which changes only incrementally from year to year, my containers are empty and waiting at the start of every new season.  In Michigan, we have four seasons every year, each lasting about 3 months, give or take. Four times a year,  I have the opportunity to start over.
How I choose to design and plant pots is a process I look forward to.  Certain plants that I may have never given a moment's notice suddenly interest me.  Certain plants or materials that I have never seen or used become available. Growers of all kinds give a special gift-a vocabulary from which a container planting is eventually able to speak. A color combination that suddenly strikes my fancy. There was a time when I dreaded the coming of the fall.  All I could think about was the beginning of the end of the garden. What a silly notion.  Fall is a great time to plant in a landscape or garden. The temperatures are moderate, and the rainfall more regular.  Fall is also a great time to plant containers.
The leaves of the trees maturing, turning color, and dropping, is a spectacular event. The sun low in the sky endows everything in the garden with a special glow.  The cutting flowers and vegetables at my local farmer's market speak to the abundance of the harvest. Every color from the sky to the kale to the red peppers is completely saturated. The ornamental grasses are never more beautiful  than they are in the fall.  Caring for fall containers is easy.  Cool temperatures means infrequent watering.  Trouble with bugs-not so much.
  The summer annuals are slowing down, and showing signs of displeasure with the cool nights. The coleus and non stop begonias in my containers are the first to show signs that their season is coming to a close.  They like hot sunny weather.  Nights in the 40's are not to their liking.  I am reluctant to give up my summer containers; they have provided me with so much color, texture, and form all season long.  My containers are always their best in September.  They have grown in, and grown up.  The dahlias are never better than they are in September and October.
However, it is but a short time from the peak, to the decline.  That said, the decline of the summer summer loving plants does not mean the decline of the garden.  We have a fall season, dead ahead.  Summer containers can be switched out for fall.  Local nurseries, garden centers and farmer's markets carry all kinds of fall blooming and cold tolerant plants. Pansies and asters are great in fall containers.  Dwarf evergreens shine in fall pots. Succulents, even tropical succulents, are tolerant of cooler weather.  Foliage plants are especially gorgeous in the fall.  The ornamental cabbage and kale are extraordinarily beautiful. I like heucheras better in the fall than the summer. So many of the ornamental grasses are suited for a planting in a fall container.  Chrysanthemums have their place-they thrive and bloom in cool weather.  There are lots of choices, if you decide to go ahead and choose.
I like adding fresh cut and preserved or dry natural materials to fall pots.  Why not?  They provide me with the option of going taller and wider. They have the potential to provide a sculptural quality to fall containers that is hard to obtain otherwise.  Faux materials, as in the orange suede floret stems in this pot, can add a lot of color. There will not be so much in the way of growth from the fall pots unless the weather stays moderately warm and sunny-just like the weather we are having right now.  The ornamental grasses that are available can add some height and rhythm to fall containers. This is welcome, given the static quality of chrysanthemums, asters, and ornamental cabbage and kale.
The only draw back of the ornamental grasses is the size of their rootballs.  Big grasses have even bigger root systems.  A six foot tall grass is likely to take up a lot of space in a pot. An ornamental grass transplanted into a pot is not rooted in.  A good wind or hard rain can knock them over.  It is possible to get all of what is good about a grass or a grain by cutting them, and securing them to a bamboo pole.  A stout 8′ bamboo pole only takes up one inch of space in a container.
In addition to ornamental grasses, broom corn and millet dry beautifully.  The colors mix well with preserved eucalyptus, twigs,  the ripe seed pods of butterfly weed, gomphrena, Chinese lanterns, mature echinacea stems and thistle. Any garden has plenty of materials that can be harvested for a fall container.  If the roadside weeds suit you, be sure you shake out all of the ripe seeds before you use them.
Some materials I turn upside down and hang for a few days prior to use.  If you need an element to be upright, let gravity do the work of drying it in that position.  Other materials look better in a casually draped state. I do dry the grains indoors.  Once they are outside, and the seeds mature, you will have gold finches swarming your pots.  This is an experience of fall that is pure pleasure.
New to me this year-dry banana stalks.  They curl as they dry in a way that only nature could create.  They are quite heavy, so we attach them to bamboo stakes in two places before we use them in pots. If you use any preserved or cut materials in pots, they need anchoring.  You need to supply what the roots once did.  Rob does a great job of finding great dried and preserved materials for pots.
These pots are quite large, and ask for an arrangement proportional to that size.  The centerpieces provide a lot of height, and a lot of visual interest.  The kale and cabbage are enormous this year-thanks to the cool summer.  If you do use them in containers, be sure to water at the soil line, and not over the leaves.  The leaves shed water, and can leave the soil dry. The leaves of some varieties are arranged densely around the stalks-if they do get wet, and do not have a chance to dry out, the plants can develop mold.
The most important part is to exercise your imagination, and enjoy the experience of fall gardening.  Though my pots at home still look good, I am thinking ahead to what I might want to see for fall.  I have plenty of trees and shrubs that are getting ready to turn color.  My fall pots will look right at home.
eucalyptus, black and green millet, and "Coral Queen" kale
finished fall arrangement
ready and representing the fall