One of my crews has been planting fall containers full time and just about non stop for going on a month. I suspect we will be able to finish up by the end of this coming week. I am pleased that the warm weather has finally retreated. Really? Great seasonal container design is all the better for the inspiration that comes standard issue from nature. Our most colorful season is nigh upon us. The dogwood leaves have turned red and orange. The green leaves of the oak leaf hydrangeas everywhere are trending towards maroon. At the shop, the leaves of a single branch on the 5500 square feet of wall covered in Boston ivy are a brilliant red. This is a signal. Our fall season is underway. Cooler temperatures are a signal to deciduous plants to shut down their production of chlorophyll. Soon enough the green landscape will give way to the yellow, red, orange and purple we associate with fall. The rosemary in the above containers I would call a plant for all seasons. Planted in early April, these plants have grown on and still look great, seven months later.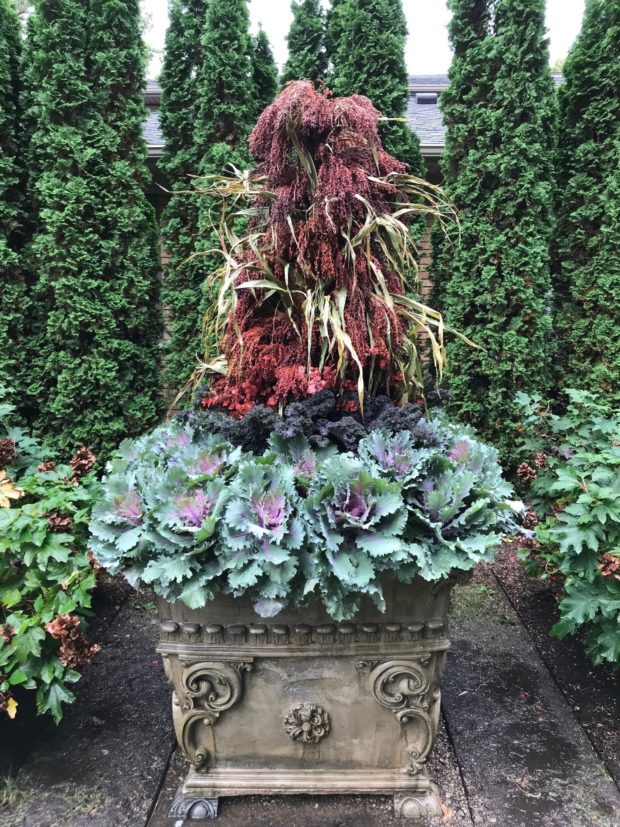 Cooler temperatures means the ornamental cabbage and kale are beginning to color up. The color of their leaves will continue to intensify once the temperatures are reliably below 50 degrees. The most intense color will surface after a frost. That color will be more saturated after several frosts. Gardeners have a lot to look forward to. What you see in the picture above is a pale version of the the final mile. The changes to the leaves in the ornamental cabbage and kale as a result of dropping temperatures are part of the bigger process we call fall.That visual leafy change from summer to fall is the best reason for planting containers for fall. Should the experience of every season enchant you, bring that joy home. Pots at the front or back door, or on a terrace, are a daily reminder to enjoy the season at hand.
Ornamental cabbage and kale differ from the vegetable versions in several significant ways. Ornamental varieties form large flat rosettes.  The centers of these rosettes is what will eventually show color. The outer leaves stay green. The colder it gets, the more striking the color.  It won't hurt you to eat ornamental cabbage, but the leaves can be shockingly bitter. You are on your own with that. Cabbage for consumption eventually form heads as part of their natural cycle of growth. Cabbage grown for consumption is mild. Cabbage meant for fall pots is all about the look of the leaves.  Kale meant for consumption evokes widely differing and strong opinions. Suffice it to say not everyone loves that taste. But kale representing in fall pots is about a visual discussion of the season.   
The intersection of agriculture and landscape design is my most favorite place to be. Vegetables provide food. But the history and practice of growing plants for food contributes much to the ornamental garden. One obvious example is the corn maze. The availability of fresh sweet corn is a highlight of the summer. A field of late planted, late to mature corn bred and grown for silage with a maze cut into it is an experience of the farm enjoyed by many in the fall. This ornamental form of agriculture brings visitors to farms to buy pumpkins and apples at a time when their growing season has come to a close.  Interested in more information on local harvest events open to the public?   Michigan corn mazes
There are few fall container plants as showy as the ornamental cabbages and kale, but their true strength lies in their persistence. They are not only cold tolerant, they are frost tolerant.  I have seen them endure temperatures as low as 20 degrees without harm. Clients often ask me how long a fall planting will last. Each if our four seasons lasts 3 months, give or take. I value container plantings, as they celebrate the season at hand, so I'll take three months.
Everything in the garden is ephemeral to one degree or another. A white oak tree can survive 300 years, and the lilac bloom time in my zone is 2 weeks in a good year.  The crocus can be felled by frost the first day they open, or with cool days and nights, last a few weeks. The transitory nature of life is part of what makes it so precious. The Rosebud cabbages in the above picture were grown from seed, probably sown in late June or July. Three or four months past the germination of that seed, they look as luscious as they are robust. I expect this pot will look good throughout the fall, and into early winter.
Broom corn is a crop grown for just that reason-corn brooms. The seed is a favorite of birds.  We have to keep the garage door at the shop closed, otherwise we would be inundated by birds. But this material has interest even when the seeds are gone. The long stringy stems would persist all winter and then some. We use all sorts of materials in concert with the cabbage and kale-some natural and some not. The big idea is to represent the fall season in a satisfying way.
dyed birch branches, faux seed ball stems and Rosebud cabbage
bleached sticks, broom corn and Coral Prince cabbage
broom corn, eucalyptus, faux orange seed ball stems and Coral Queen cabbage
Himalayan white barked birch under planted with Prizm kale and creeping jenny
fall pot set in ornamental grass
pair of pots with Ruby Queen cabbage
Lemon cypress and Coral Prince cabbage
centerpiece with the kids in mind
A trio of pots are all dressed up for fall.