2000   To follow is a substantial run of pictures from my winter container arrangement archives-the photo collection and work dates back 21 years. I am as surprised to see this as you are. I did not think there were this many years and that much history-but here it is. I did not compare every picture from a given year, and choose what I thought was the best. Whatever seemed to speak to this moment was included. Some arrangements look in keeping with the year they were made. Some look ahead of their time. Some look great and others are so regrettably so so. Ha. You decide what you think. I have my memories.

2001  Tender    We recycled dead Bradford pears from our nursery supplier, and rubbed them down with a copper colored wax. The trees were ornamented with twine pillows and platinum fluff balls.
2002  This light garland was the first of many that Rob would make over the past 20 years. I am sure there are more to come.
2002, part 2  Galvanized pipe wound round with lights, curly copper willow, and greens augmented with light strands and lighted ornaments
2003 Dried and dyed mood moss fitted and glued over urethane topiary forms
2004   Prelit glitter and berry branches hover over fresh cut greens and lighted ball ornaments.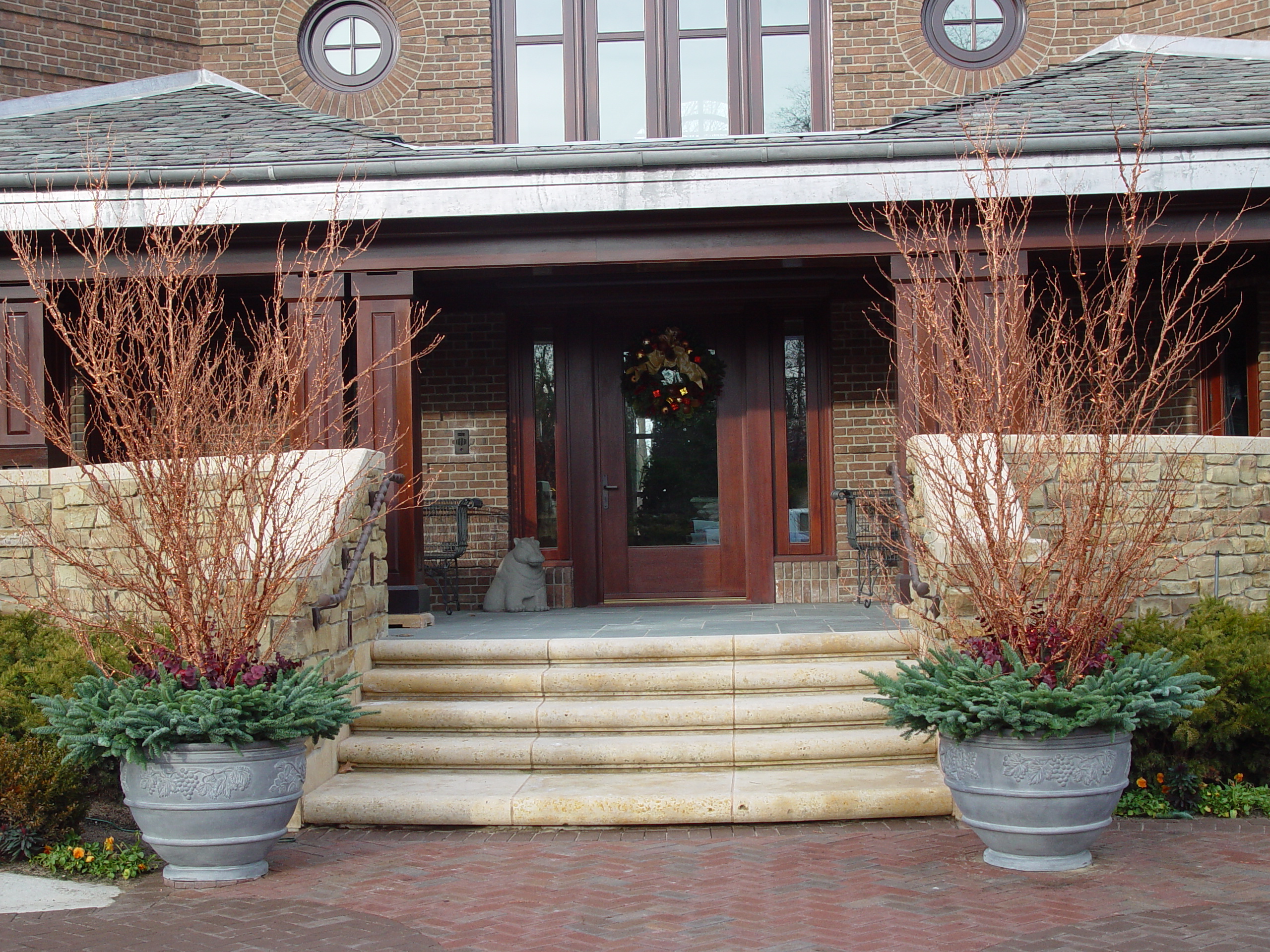 2004     More of those prelit metallic copper glitter branches.

2005  round wood poles, grapevine spheres and lengths of thin wood lath
2005  dried grasses, twigs, faux berry picks and cut pine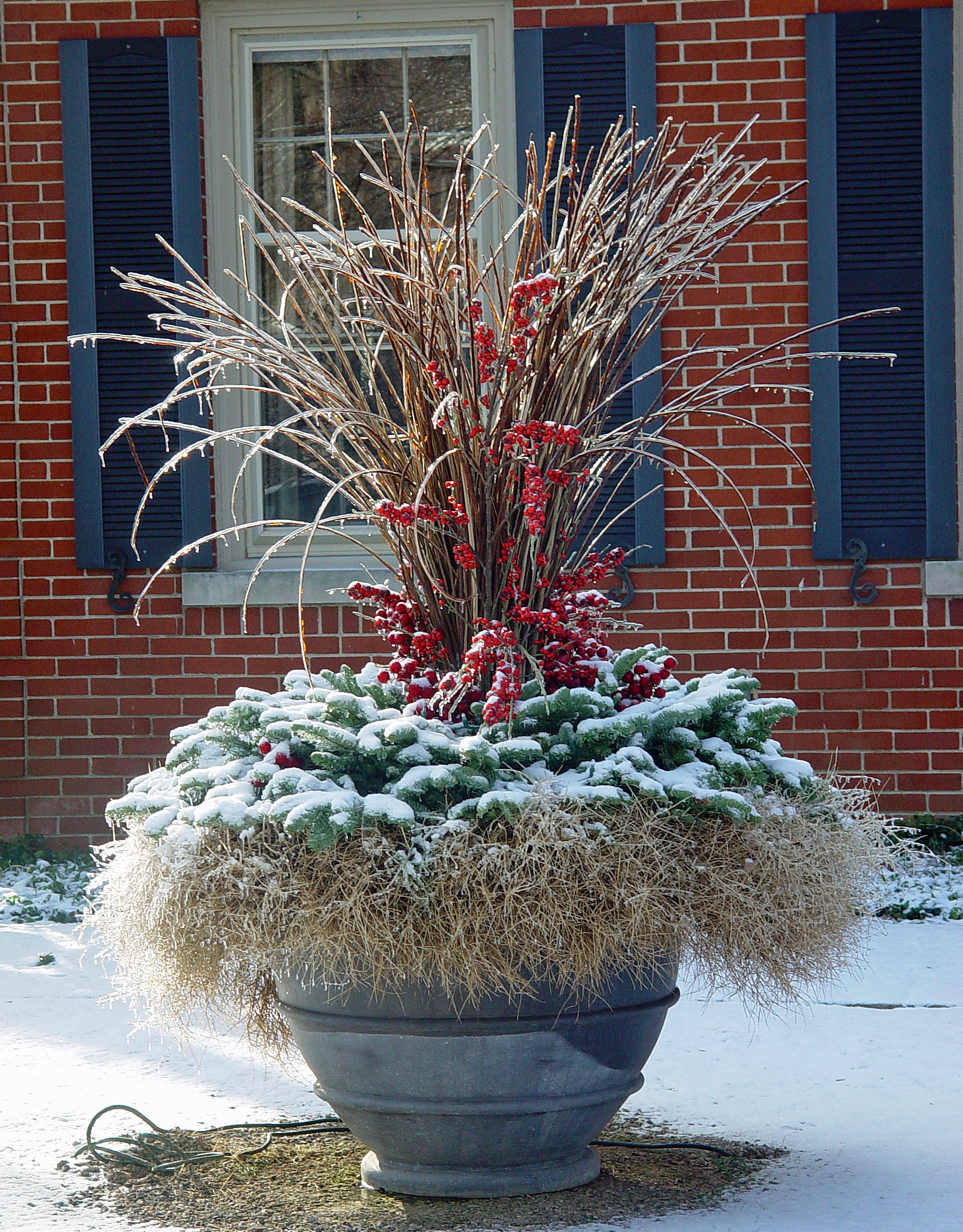 2006   stick stack, berry picks, and fresh noble fir over a large huck wreath.
2006  bleached willow twigs, stick stacks, bottle brush snowflakes and gold poly mesh
2007  a first foray into arranging natural foraged branches
2007 at Detroit Garden Works    live juniper topiaries, fan willow and mixed cut greens. We have never been able to source fan willow of this size and with this degree of fasciation, again – it was locally grown.
2007  contemporary stoneware pot by Francesco del Re filled with various contemporary sticks and stacks.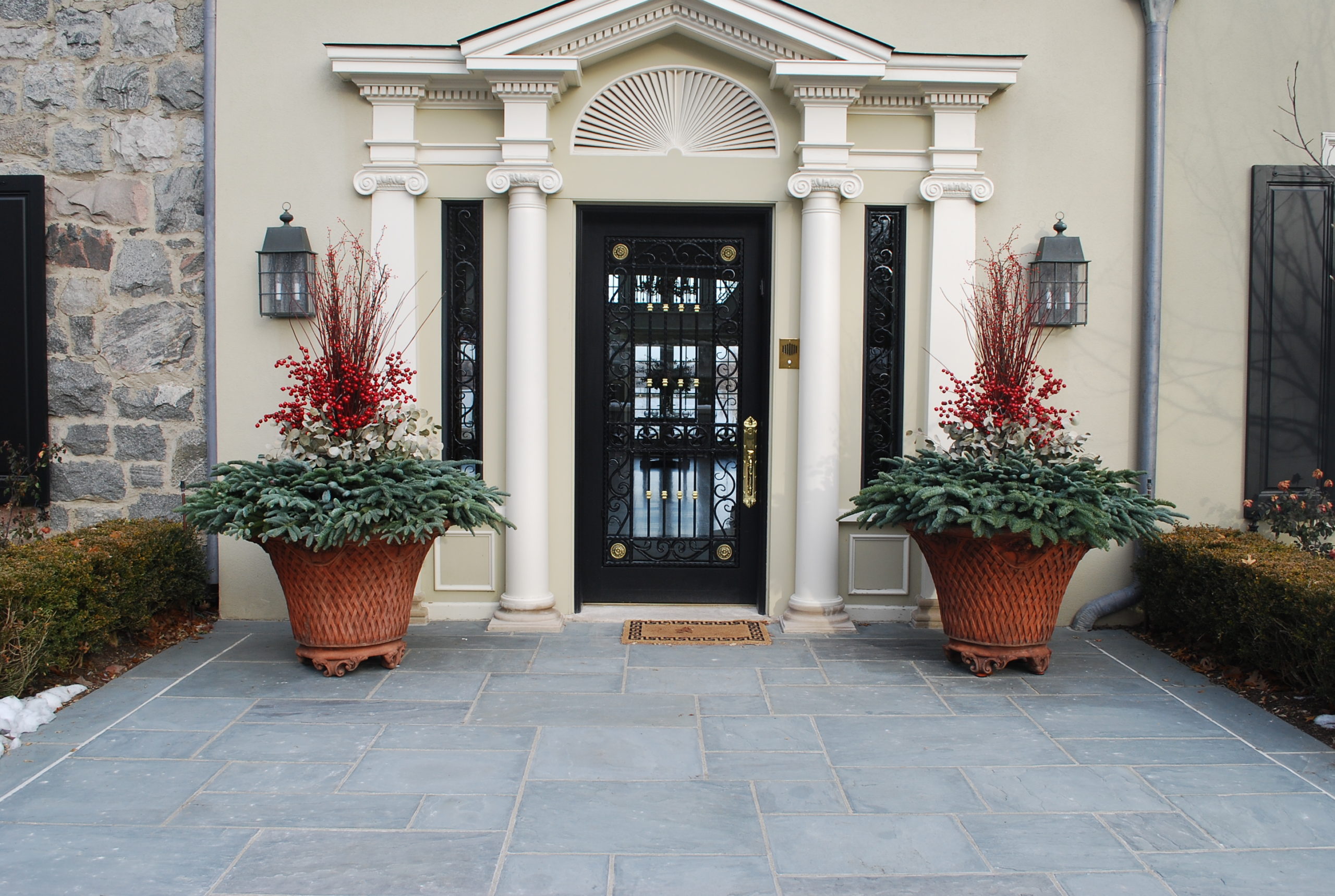 2008     red twig dogwood, red berry picks, fresh silver dollar eucalyptus set into cut noble fir boughs
2008    yellow twig dogwood and eucalyptus stems and pods
2009     red twig dogwood, faux red twig picks, magnolia branches and mixed evergreen boughs
2010   magnolia garland, red twig dogwood and red berry picks
2011  un-branched red twig dogwood, magnolia, boxwood, fresh cut winterberry and noble fir
2011 Detroit Garden Works  gold deco mesh enlivens fresh cut pussy willow, greens, and pine cones
2012      copper curly willow and magnolia branches – and mountain hemlock all around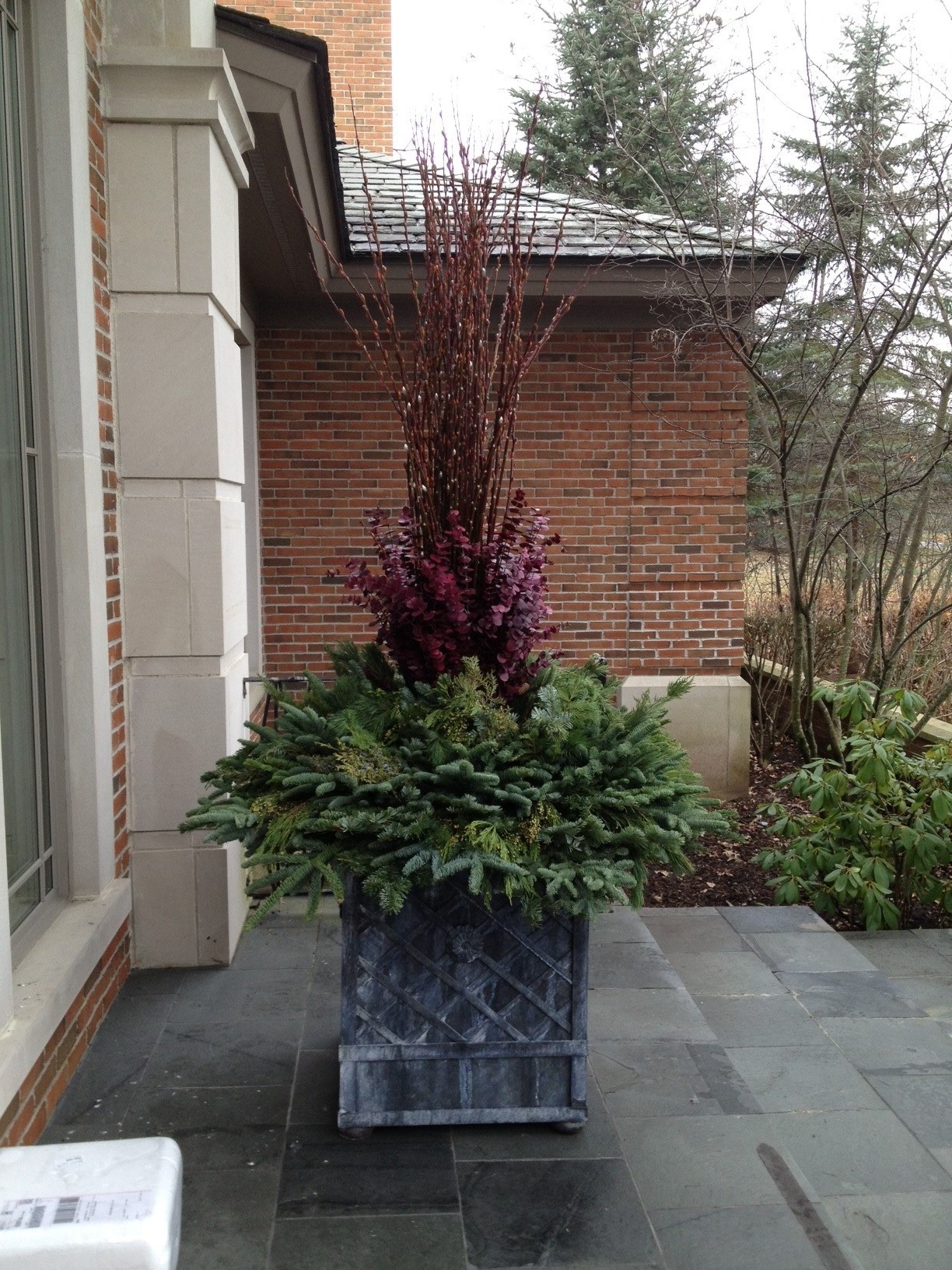 2013   Tall red bud pussy willow, red preserved eucalyptus and mixed greens
2013    red bud pussy willow, lilac preserved eucalyptus, magnolia and noble fir
2014  flame willow, magnolia branches and mixed cut greens-
2014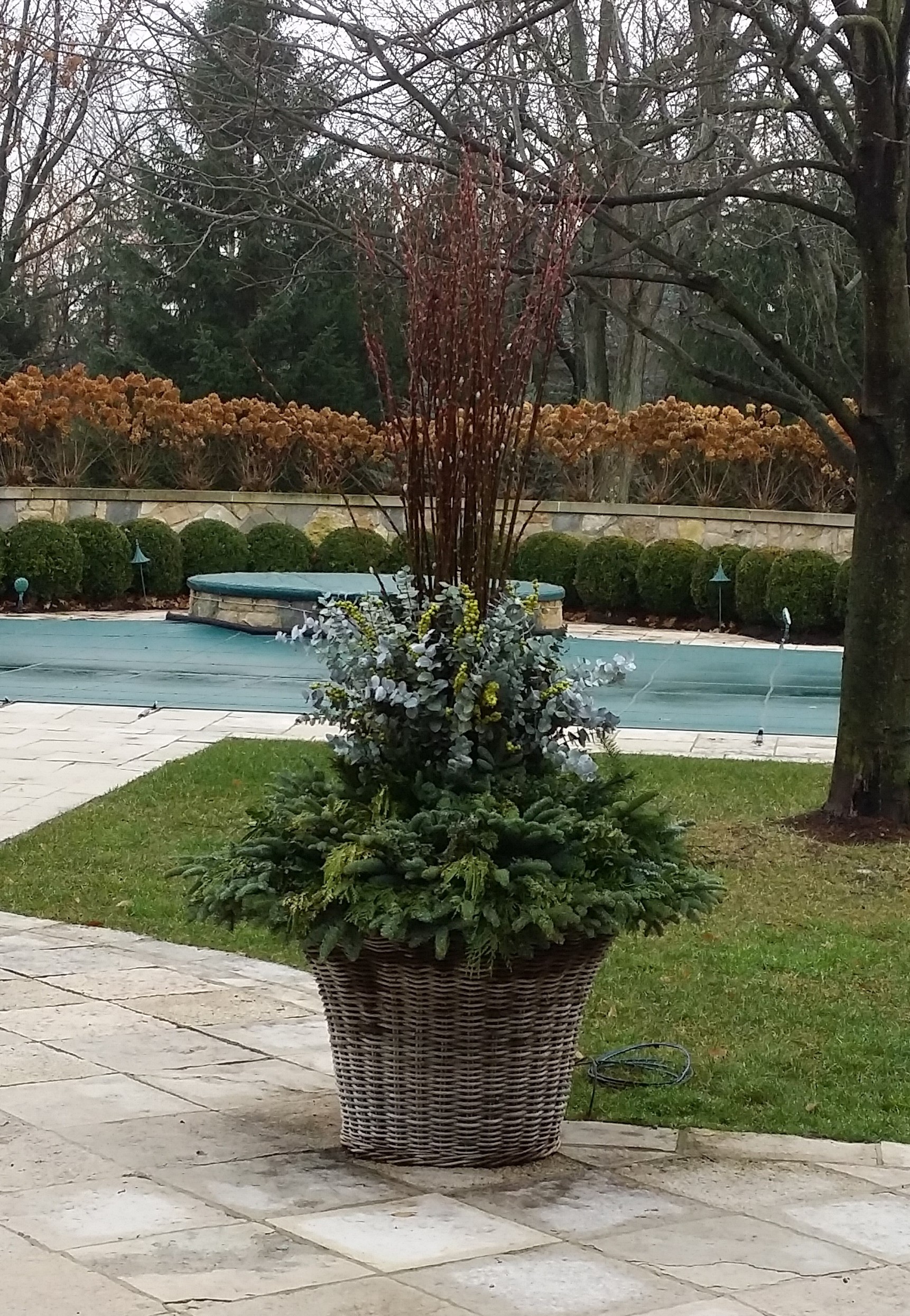 2015  lime green faux berry picks and pale blue gray preserved eucalyptus. The basket planter is Dutch made.

2015   with the Christmas holiday in mind

2016   English made steel topiary form with lights, spruce tips, and snow

2017       flame willow, magnolia and spruce branches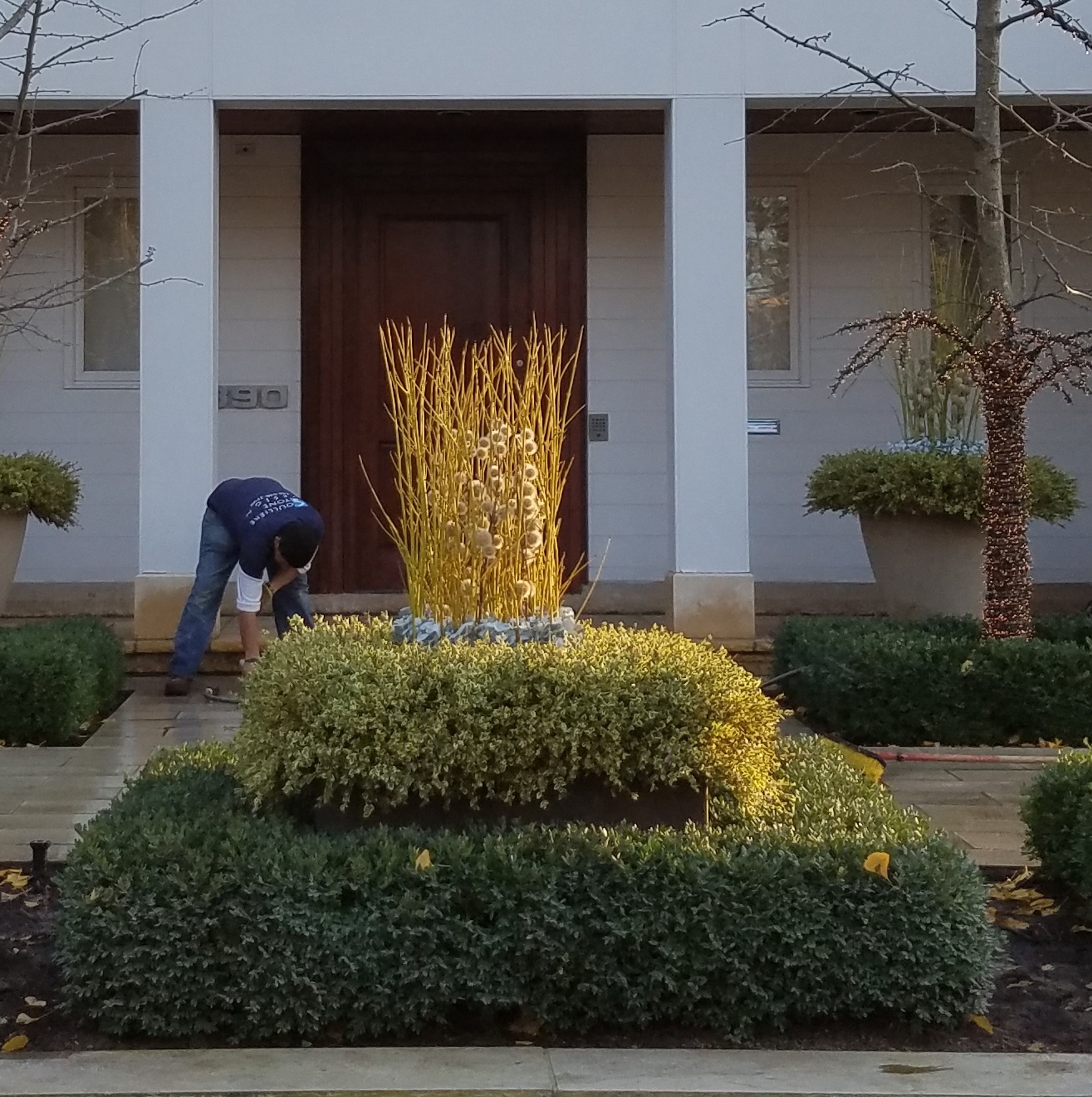 2017     yellow twig dogwood, yellow fuzz ball picks, white eucalyptus, variegated boxwood in a large corten steel planter box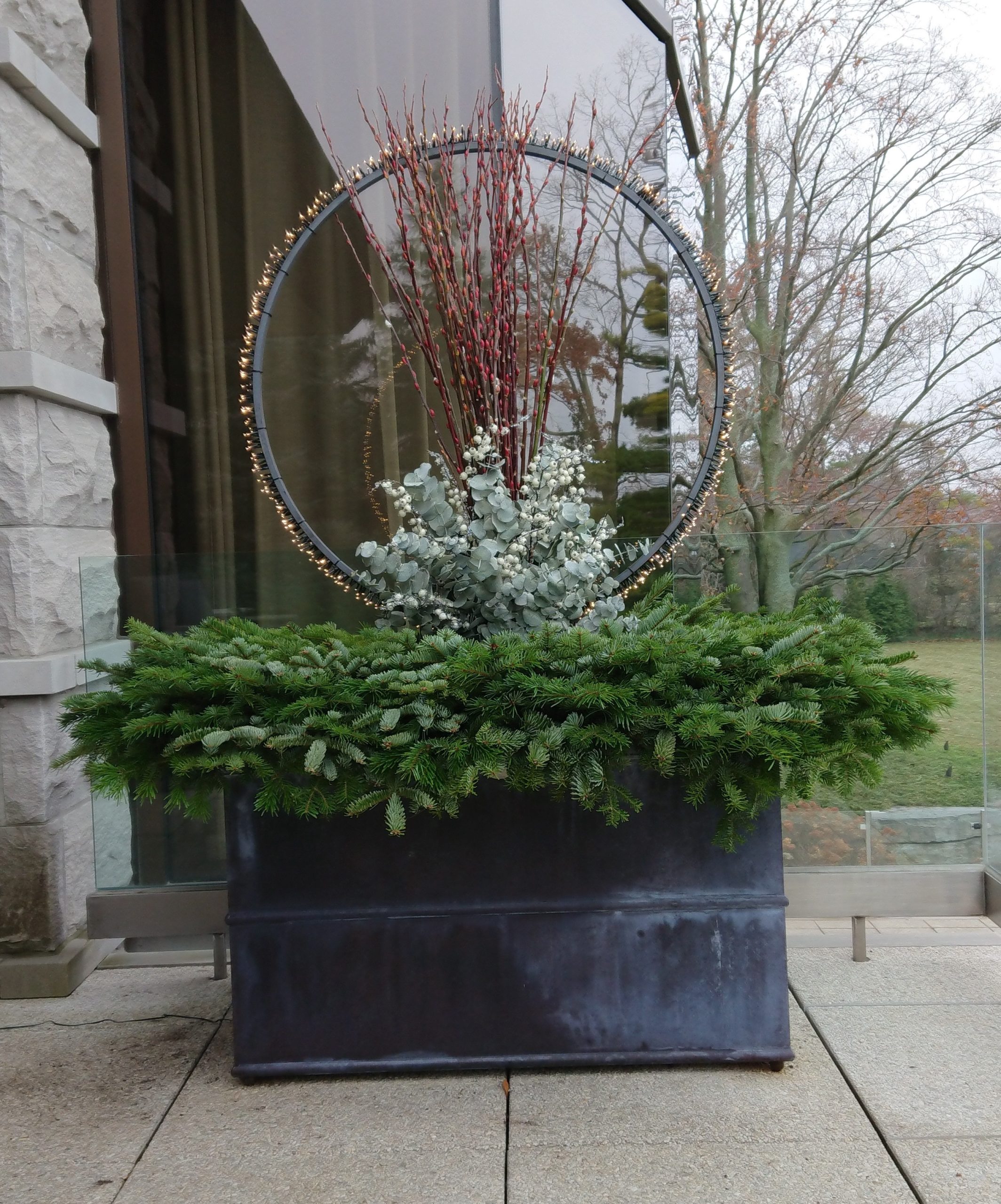 2018   3′ diameter lighted ring over a mix of silver and noble fir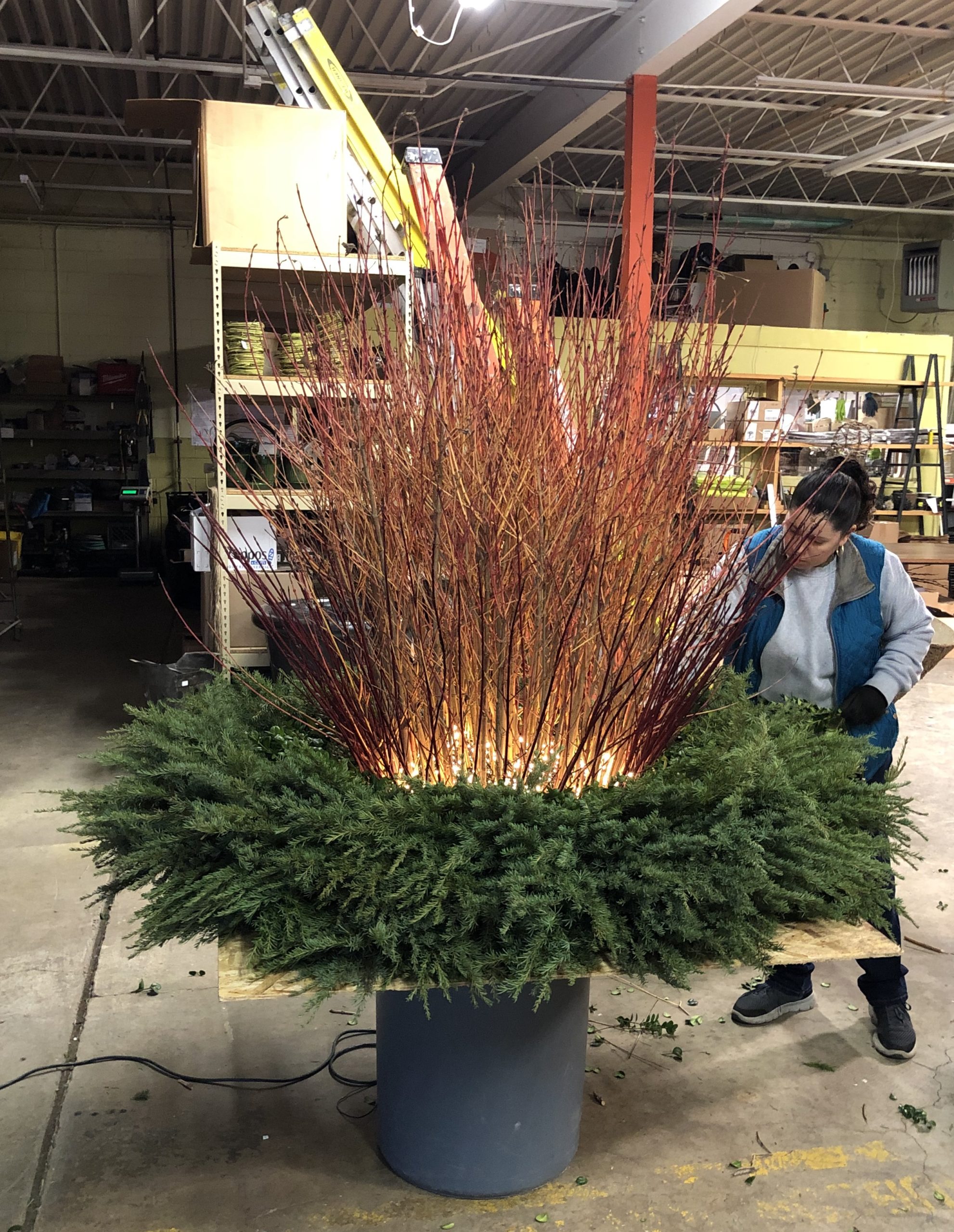 2018    a thicket of "midwinter sun" dogwood branches and mountain hemlock
2019   a sparse arrangement of red bud pussy willow, green and white fuzz ball picks, gold and white berry picks and magnolia
2019   "midwinter fire dogwood branches and a light ring
2019     yellow and green

2020    a winter sculpture made of fan willow, boxwood and noble fir
2020    flame willow and large scale snowball picks awash in LED cherry lights

2020  layered look with tall faux astilbe picks

2
020  wool felt stole and gold grass picks
2020  wicker basket pots

2021  bleached sticks of several diameters and heights; white berry picks

2021   the centerpiece:  cream berries lining the interior of a 5′ diameter light ring, twigs, picks and magnolia
2021        3′ diameter light ring, alder branches, stainless steel spheres on stainless stems, silver plastic grass

2021          green and white

2021  evergreen branches set vertically
2021  window boxes with light rings,  faux lambs ear garlands, silver plastic grass, blueberry picks, white flower picks-and beaded stars. Very keen to see what will come next.