I don't remember how long ago it was that Rob began experimenting with attaching lights to steel forms, but I would guess it was at least 10 years ago. There was a series of steel augurs, wound with rope lights, and hung from stout branches in the linden trees. Any farm tool was fair game. This was in the very early days of our winter and holiday season, so Rob haunted every store within driving distance for different kinds of exterior lighting.

There were galvanized steel pipes of varying lengths completely covered with light strands. They were threaded over a solid pipe that had been driven in to the ground. The quality of these incandescent light strings was on the poor side, and they furthermore required a lot of electricity to run. LED outdoor lighting was in its infancy, and the harsh bluish light was reminiscent of gas station bathroom lighting. Light to be interrogated by, as it were. There were winter arrangements that had lighting wound around the pots. There was a phase when he made his own lighting by assembling cords and bulbs bought one at a time. There were galvanized buckets with lights, greens and cones. Set it on your porch, plug it in, and celebrate the winter. Rob never was one for overly elaborate or complicated displays. He likes simple and casually striking. There were winter container arrangements that had light strings as mulch. Strands of C-7 and C-9 lights were piled high. Eventually we had to upgrade all of our existing exterior circuits to 20 amps each, and we added more circuits for good measure. We were lit.
Sooner or later, something solid was bound to come from all of his tinkering. The day he came home with a pair of vintage wagon wheels that he wound round with lights, and hung in the airspace in the shop, I could tell something was in the air. There was something about that circle of light that was as satisfying as it was fascinating. A client bought them both in short order. That winter, he spent a lot of time designing a steel hoop especially engineered to hold and securely capture the lights, and we manufactured them in different sizes.

A year later, he designed an integral stand for the rings. This meant they could be securely inserted into a pot, or in the ground. In the air, or in the ground-you can take your pick, or do both. By this time, he had found an LED lighting line that he liked. The lighted hoops were a winter decoration that could be enjoyed year after year. Three years in to the lighted hoop manufacture, he suggested that perhaps it was time to move on to another shape. I was incredulous. That circle of light was so simple, so visually striking and so easy to use, I couldn't imagine him giving it up. So we have fine tuned the engineering, and continued to make them. Jackie has shipped them all over the US and Canada. To gardeners, and not gardeners. To designers, florists, and restaurateurs. A sure sign of a great design, they adapt instantly to any setting.
Clients for whom we do winter pots ask for them now, and we are happy to oblige. That ring of light features the fixings in a winter centerpiece in an elegant and stunning way.
Rob manufactures them in sizes starting with a 2 foot diameter, on up to a 7 footer. Pictured above is a 5 foot diameter light ring. Since the lights are on the outside of the hoop, we sometimes install string lighting at the bottom of the centerpiece, and or in the greens.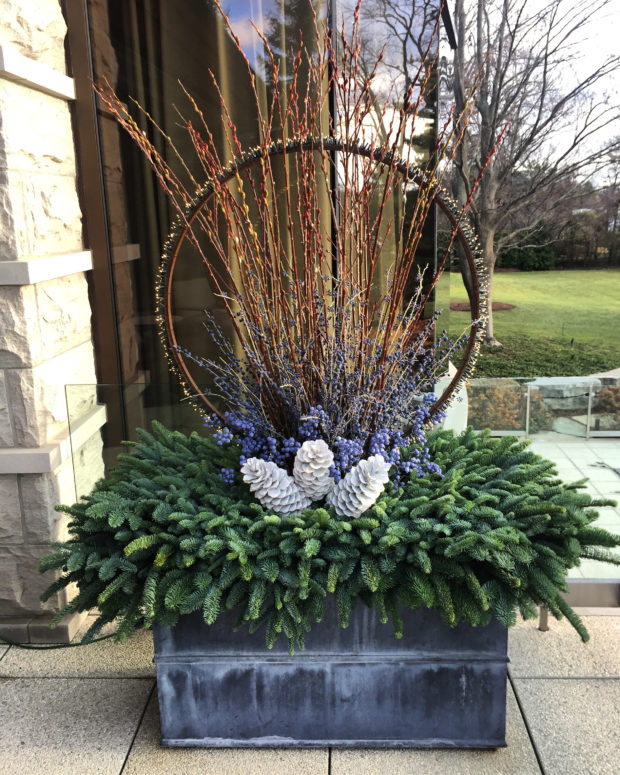 The sculptural quality of the hoops make them a design asset even during the day. I have no idea how many hoops Rob has out there now, but there are lots. Every time I see one, I think about his long term interest in lighting the garden and landscape in the winter. He tells me he enjoys seeing the work of others fabricating their own version of lighted hoops. It is a testament to a great idea that variations on this theme have sprouted in other places by other people. To follow are pictures of winter arrangements new and old that feature his light rings. They are all different in execution, and all the same in their successful effort to keep the winter dark at bay.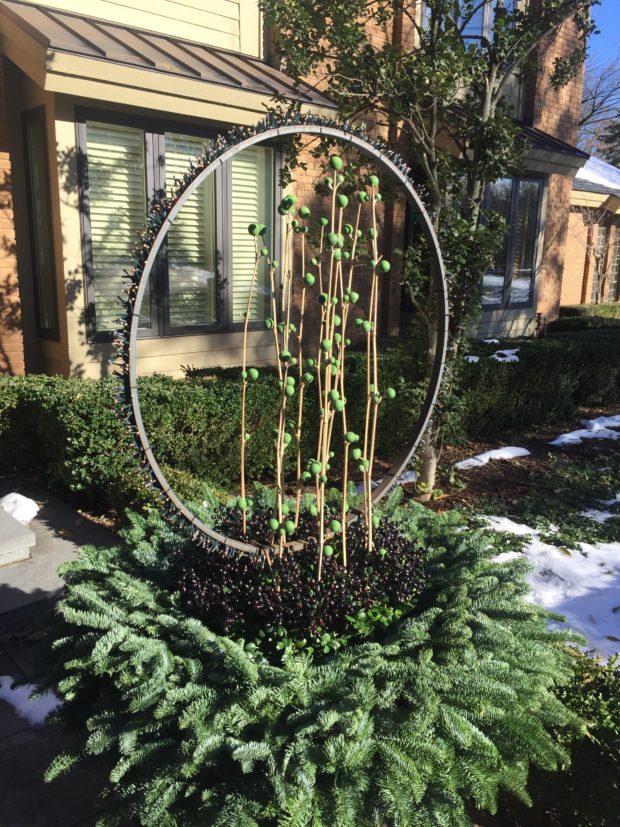 See what I mean?