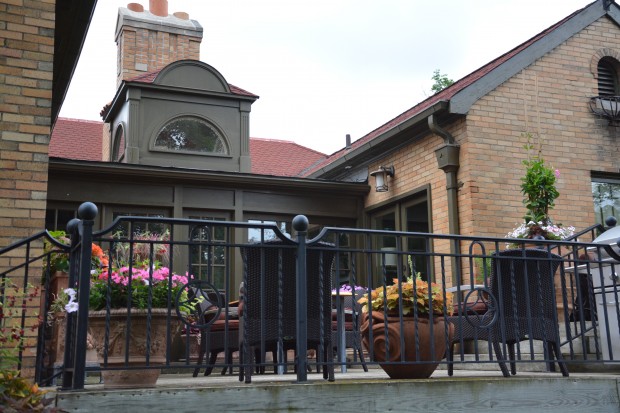 Every year I think I will be able to finish planting annual containers for clients before the beginning of July.  Beginning of July? I do have clients who plant their pots for spring-they have no need of a summer planting until late June.  There are some clients who call the first week of June for pots.  It is late June until I can get to them.  I am hoping to finish all of my private clients this week, leaving a summer commercial installation for next week.  The container plantings I hope to have done by the 4th of July.   Given our cold and off putting spring, It is still taking all the time I have and then some to do the work I have booked. But no matter the work load, I make time to plant my pots at home.
I do plant lots of containers at home.  Coming home to planted pots is a good thing indeed.  Part of my end of the day routine is to tend to the watering  and maintenance of my pots. Just an hour ago I finished planting the last pot.  Given that I am planting into warm soil, that last pot should show signs of growth in just a few days. Looking at them and after them is relaxing for me.
I do plant my pots differently every year.  That is part of the challenge, and the anticipation of the summer season.  My trees are in the same place, doing the same thing, every year.  My perennials and roses and groundcover-I do not move these plants around, or change them regularly. Though I may waffle away the early spring planning for my containers, by the time that June comes, I have to commit.  I like that deadline.
I like that pressure. Too big a time frame gives me too much room to fret.  A short time frame encourages me to make decisions, and plant.  I am pleased with this year's deck plantings.  Certain things influence my decisions. I have a 1930's home with Arts and Crafts details that features a brick cladding that is a mix of yellow, cream, and pink.  White looks too chilly here. Silver foliage, as in gray, looks good here.  I will admit that after the consideration of scale and mass, I am very drawn to a discussion of color. Pink and orange, and all the versions thereof, may not interest you.  But those colors suit both me and my space.
I went on occasion far afield from a pink and orange scheme. The Persian Shield in my Italian terra cotta squares faced down with variegated pepperomia and variegated tradescantia seemed appropriate to the color of the brick, and the color of the Italian terra cotta pots.  I had no problem introducing some dark purple to my scheme.
The pennisetum whose name I cannot remember,  and the orange coleus works with the color and the design of this pot.  I did entertain many other plantings for these terra cotta urns.  Pictured above-my decision. No one else has to be pleased about this decision but me.  That is half the fun of it.  I like this messy head of hair in contrast to the formal and classical style of the urn.  Once the coleus gets to growing, the look will change.
My terra cotta pots from Mital have  loads of detail.  I try to plant them with an eye to that detail. I try even harder to not to over think it.  I am a big fan of graceful. All the plants in this pot are quite ordinary-petunias, geraniums, lime licorice.  The terra cotta nicotiana is new to me-I like that brick orange color.
Pink and orange-I will admit my choices for my containers this summer were much about lively color.  The nicotiana "Blue Ice" is an interesting color variation I had not seen before.  I have planted this oval pot all green, with green nicotiana, for many years.  This year is different.
As for what I have planted in my deck pots this year, I like the relationships generated by color.  Not quite so obvious are my sun issues.  This space does not sit due east.  It sits southeast.  This particular spot gets incredibly hot and sunny for about 6 hours a day.  The brick, once it gets really hot, radiates more heat.  I have to pick plants that are happy in this environment.
This pot full of orchid pink new guinea impatiens looks swell.  Like the geraniums in the previous picture, this impatiens likes the heat, and a good amount of sun.  The pot is large enough that I am able to keep the soil at the proper moisture level.  Dry New Guineas will flop over dramatically.
The 1930's English snake pot is a prized pot.  It does not need all that much in the way of dressing up.  The creme brulee heuchera leaves are big and simple, and compliment the shape of the pot. I can see over it into the garden beyond. The pot has a setting.
At the bottom of the stairs off the deck, one of the first boxes that my company Branch ever produced. I love this box every bit as much as my Italian terra cotta pots.  The color scheme is a mix of yellow, orange and brown. There is a lot going on, texture and color wise, as the pot sits in front of a big section of brick.
I would share anything I could about my process for planting containers with any gardener.  Why wouldn't I?  That said, I did not think much about my process until the pots were done.  My container design has everything to do with the place- the architecture of that place.  Color.  Scale and proportion. Rhythm.  Texture, mass and line.  And of course, the maintenance. What can I plant that will be a pleasure to maintain?