To follow are too many pictures of the spring pots we have planted up at the shop.  But too many pictures of plants growing and blooming is just what I need right now.  On this 18 foot antique Scottish railway bench, a collection of little mixed spring pots.  Ever since the day years ago that I had a 14 year old boy put a ten dollar bill in my hand, and ask me what I would recommend for his gardening Mom for Mother's Day, I make sure I have an answer.
The loss of the section of boxwood in front of the store is a loss I cannot really explain.  Those plants had their roots entwined with a vision for a garden shop imagined 19 years ago. I would have been happy to have those plants there, always.  But always is not an adjective one can routinely pair with the work and unexpected trouble that it is to sustain a landscape.  Sometimes changes must be made.  Though the end of this winter is not what I would have chosen, I have plenty of options to express the beginning of a new gardening season that are charged with life, vigor, and color.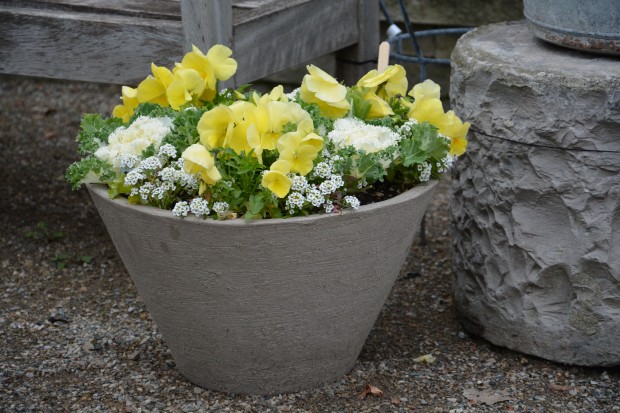 A container planted for spring is all about a new season.  Fresh ideas that grow out of old ones.  A splash of color so welcome after an interminable winter. Spring is a season which is different every year.  Ours so far is wet and cold.  But these container plants revel in those transitory conditions.  I admire their verve and robust habits.  Bring on the spring plants.
Parsley, dwarf marguerites, pansies and violas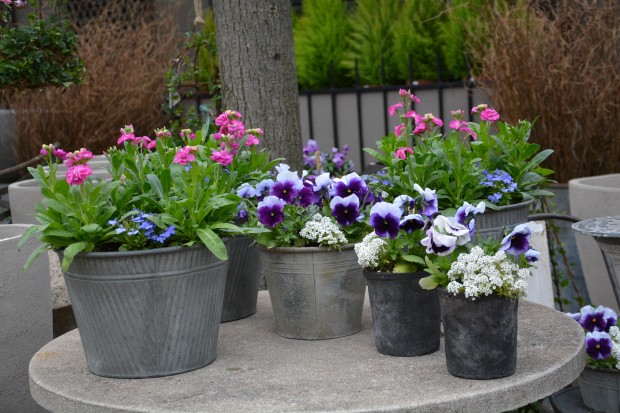 Stock, lobelia, alyssum and pansies
Lemon cypress, white cabbage, variegated lavender, green sagina, white alyssum and dwarf marguerites
Little spring container plantings in fiber pots
variegated lavender and violas
spring vegetables in containers
pair of pansy and viola pots
basalt tray planted with lettuce and citron alyssum
red, yellow and orange pansies in a mossed basket
lettuce bowls
lemon grass, chard, osteospermum, alyssum, and dwarf marguerites
pansies and violas in jewel tones
wire basket full of violas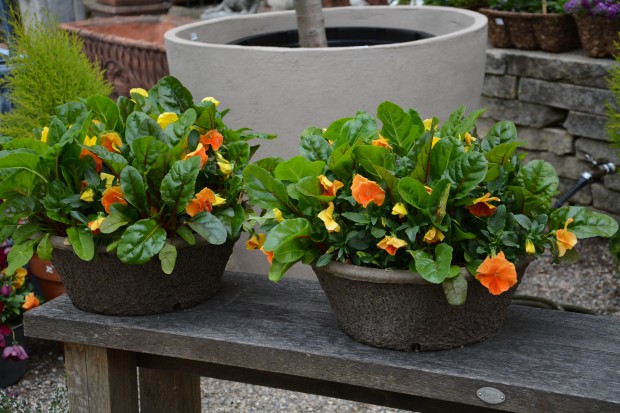 chard and orange pansies in fiber bulb pans
Parsley, lettuce and pansies are a sure sign of spring.