Daisies? I have always liked them. They are easy going and companionable in the garden. They are not fancy. They are sunny and friendly. A bunch of daisies relaxing in a vase is a sure sign of summer in my zone. They are sturdy plants, meaning they are willing growers and easy to care for. The daisy/aster family is a large one, comprising more than 20,000 species. Simple, single flowered and obliging-this describes most daisies. A well grown stand of  shasta daisies is stunning in bloom. But my favorite daisies are those that tend to the weedy side. My most favorite daisy?  Bellis. As in bellis perennis.  That English daisy that is scrappy enough to thrive in a lawn, providing you garden in a zone where the summers are on the cool side.
The broad leaved foliage forms a tuft that hugs the ground. That they thrive in a lawn can be good or bad, depending on your definition of a lawn. The informal and casual entrance to a lakefront neighborhood near me is covered with white bellis blooming in the spring. There are some trees, a sign, and the English daisy lawn. The conditions must suit them perfectly, as it appears the only maintenance is an occasional mowing. Another neighborhood entrance a good hour away features a few trees, a bell tower, a sign, and a bellis lawn. Though our summers are anything but moderate, these two patches thrive.
I make a point to go and look at the daisy fields at least once in the spring, as I would have one if I could. The bellis in my yard is not nearly so robust. The grow for me, begrudgingly. I am likely to grow them in pots until they are done blooming.  Then I set them out in a different spot in my garden, hoping to eventually find a place they will like. This painting by the 19th century painter William-Adolphe Bouguereau, entitled "Daisies" tells more than one sweet story. It had me thinking about how I might get an English daisy lawn.
Detroit Garden Works has been closed since January 15. We routinely clean and repaint. This year we needed repairs to our roof, and some of our outside walls needed to be rebuilt. We had water coming through some damaged concrete block, and in to the building. That water greatly damaged the painting on the floor.  Once the repairs to the building were done, it was time to repaint that floor. You can see the gray spots where the paint had lifted off the floor. Dan took great care to isolate the room from our furry population. Milo, Howard, Ollie, Gary and most of all MCat would be obsessed about getting in that room. Once the room was secure,Dan laid down a primer coat of paint over the old floor painting.
I rolled the base coat in three different colors, all of them dark. Succeeding layers of paint would be progressively lighter.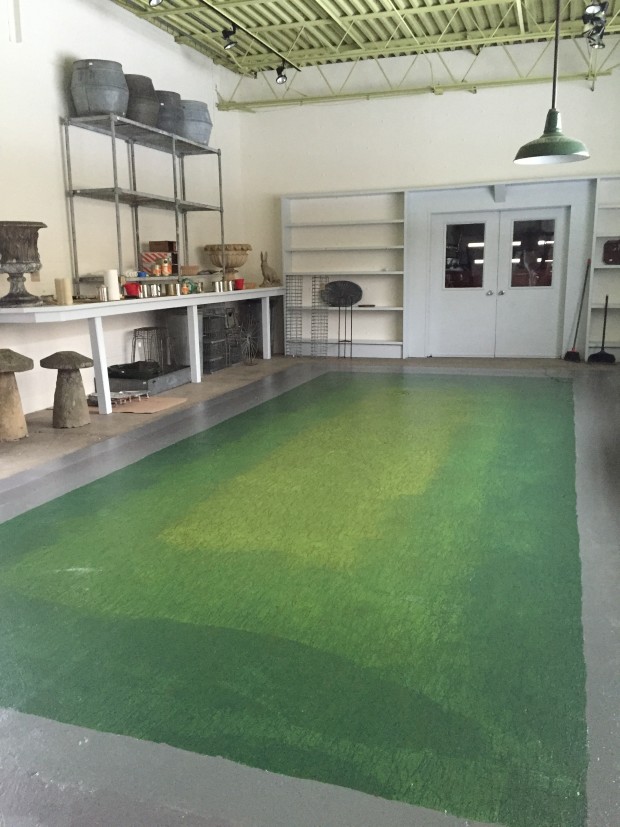 All of the paint applied in the beginning of stage 2 was put down with small wood garden marker, taped to a bamboo stake. This was Buck's invention. I wanted to be able to paint standing up, as much as possible. I was after a loose textural description of grass.  The border was undercoated with several shades of gray and gray brown, which would become a gravel border.  
This is the 3rd time I have painted this floor since we opened in 1996.  I probably would have done a new floor painting anyway, as the shop has a 20th anniversary coming up the end of March. It is a very special spring for us. It seems like the perfect time for a floor painting that features a few English daisies in bloom. And just in time. The shop will reopen for 2016 on March 1st.
The grassy portion of the painting is just about done. I have looked at it all morning, trying to decide if what is there is enough, or if I need a few finishing touches.
The gravel border is comprised of paint drops in various colors. It was impossible to keep my shoes out of it. This part is done and dry. If all goes well this afternoon, there will be daisies in the grass.
something like this.