Lots of gardeners in my zone has a love affair going on with hydrangeas. As well they should. They are rangy growing shrubs that deliver a heart stopping show of big luscious blooms from early to late summer, provided they get some regular water, and a decent amount of sun. It is that easy to have a spectacular show of flowers in the landscape in late summer. Even the fall color on the blooms is good.The Annabelles start blooming in June, and are followed up on into August with cultivars big and small –  too numerous to list or review. Every season seems to bring a new collection of hydrangea cultivars to market. It is easy to understand why. They give a lot, and do not ask for much. The oak leaf hydrangeas are equally stunning both in leaf and in bloom, and are incredibly shade tolerant. Our hydrangea season is late this year. Think back to that April we had that was snowy and cold the entire month – you get the picture.  My overgrown Limelight hydrangeas needed a strong pruning this spring. I could not tell now that they had been pruned down to 14″ above grade. They are blooming lavishly. They make me look like an expert gardener. In spite of what I do or do not do, they thrive.
Hydrangeas are easy to grow, but they can be difficult to site in the landscape. They are big growing show offs that don't naturally play well with neighboring plants. A single Limelight hydrangea can grow easily to 7 feet tall, and 7 feet wide. Even the smaller growing cultivars have giant flowers. They can easily become the elephant in the room-impossible to ignore.  It takes some thought to integrate them into a garden, or a landscape. I am not so much a fan of their woody legs, so I try to place them where that bottom third of the plant is not so much a part of the overall view. I also favor planting blocks of them, meaning I like lots of them as opposed to planting a single plant. They want to be the star of the summer garden, so why not let them show off?  Masses of summer blooming hydrangeas speak to summer in the Michigan garden in a way that no other plant does.
My limelight hydrangeas at home have a long bank of planter boxes placed in front of them. Those boxes are planted with nicotiana alata lime, and nicotiana mutabilis. The boxes hide those long woody hydrangea stems coming out of the ground. The delicate airy mass of nicotiana flowers interact in a contrasting way with those giant hydrangea blooms. The hydrangea flower backdrop makes it easier to see the nicotiana from a distance.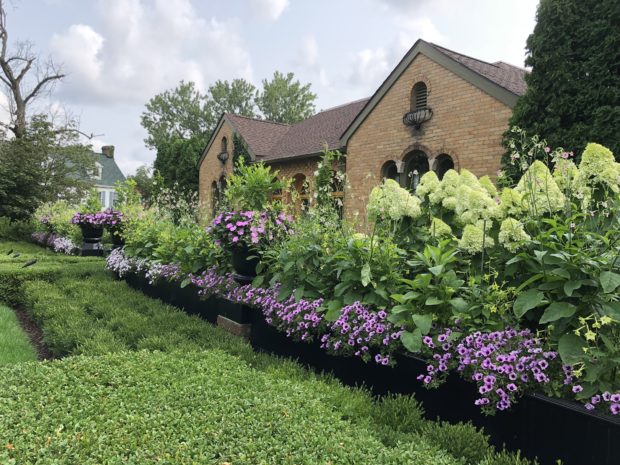 The foliage of the nicotiana repeats the big leaves of the hydrangea. The large leaves are a good foil for the diminutive boxwood foliage. The simple mass of boxwood sets the stage for a late summer.  Nothing can rival the excitement generated in the spring as the landscape roars back to life, but I look forward to this late summer display. On a 90 degree August day, this looks fresh and inviting. The hydrangeas are part of a story.
As a designer, I have a concern about about how spaces come together, and read. Shrubs, perennials,annual plants, and containers have their contribution to make. The design issue is making sure all the various voices work together in some way. The green leaves of the Persian Lime in the center of the pot helps to balance the green of the hydrangea foliage. The big growing hydrangeas need some equally strong minded company.  I did face down my limelight hydrangeas with an outside row of Little Limes. Was that a good idea?  It is too soon to tell, as the Limelights were very hard pruned this spring, so they have fewer and larger flowers this year. This is only the second season for the Little Limes, so they are not yet full sized. They are actually quite different in coloration than Limelight.
This landscape project from last year features a long sweeping curve of upright yews. All that is visible from the street of the Incrediball hydrangeas are the flowers. An annual planting at the base of the yews provides another layer of interest.
Inside the Incrediball hydrangea hedge is a mass of Bobo hydrangea, also faced down with flowers. All those woody stems and leaves are sandwiched in between plants that reveal the best part of these big growing plants, and obscures the least interesting. Hydrangea Bobo is the smallest growing of this series, which means it is the easiest of the three to place. It is perfectly scaled at 3′-5′ tall for smaller gardens. Small spaces can easily be overwhelmed by big growing hydrangeas.
We planted several large masses of these on either side of a pool. The creamy green color of the flowers contrasts dramatically with the color of the water. This hydrangea grows large enough to just obscure the fact that the bed was originally terraced into two levels with large informally placed slabs of stone.
Though the grade does drop considerably and quickly from the pool to the water, the mass of low growing hydrangeas helps to soften the descent. The transition from the pool level to the lake level happens fast.  The hydrangeas provide a reason to slow down, and linger.
The view of these hydrangeas, filtered with tall later blooming perennials and annuals, is a soft and informal look. Hydrangeas are stiff and static growing, and benefit from some airy companionship. Phlox have that same stiff habit of growth. In this arrangement, the phlox looks so much more relaxed, given a static growing plant that is so much larger growing.
There are those places where a single hydrangea can make a statement. This tree hydrangea, one of a pair, spends the winter in my landscape building, in a big plastic pot.  In the spring, it is pruned, both on the top, and the roots, and planted back into this large box. A second pruning a month or six weeks later helps to provide a network of strong branches which will help support the blooms. The box is large enough to permit an under planting of euphorbia, petunias and variegated licorice. Seeing it yesterday for the first time since it was potted up in May was a treat. Part formal and part exuberant, it is everything a well grown hydrangea can be.