Mid November is a good time to be planning what you might do to interpret the garden and landscape for the holiday and the winter.  Early is the best time to get going on a scheme.  The most compelling reason has to do with weather.  The past few years, our late fall was very mild.  Mild means it is reasonably easy to work outdoors.  A really cold late fall makes so much work of any installation outdoors.  For those gardeners that do their own work, dramatically cold fall temperatures is enough to make anyone consider skipping the winter work altogether. 
My advice-don't skip any experience of the garden.  Plant roses, peonies, trees, and wildflowers.  Plant bulbs in the ground, or in pots.  Grow topiaries and espaliers.  Plant clematis and tomatoes.  Take a liking to asters, and amass a collection.  Make enthusiasm for the garden and landscape a way of life.   Plan to express a winter idea-you will not be sorry.  On and off, we have had extremely cold temperatures in November.  The temperature today when I came to work was 20 degrees.  This is unseasonably cold, but by no means unheard of.  I remember those years when we had to chop frozen soil out of pots in order to install a winter arrangement.  Should night temperatures this low persist for much longer, our winter installations will be arduous.  Tough conditions in the landscape are my problem-not my client's problem.
If your winter garden is all your own to create, I would urge you to get dressed, and get out there.  The forecast for our coming weekend calls for 50 degrees both days.  All you need for a stellar winter arrangement in your pots are some great materials, a load of lights,  and an atmosphere in which you have time to concentrate.  Once I am in the process of stuffing a pot with sticks for the winter, I do not much notice the cold.  The fresh cut branches we bring in for the winter season shrug off the cold-why shouldn't I?  I spent the entire day today outdoors, installing our first winter/holiday pots of the season.
Stick week-we take possession of so many beautiful fresh cut twigs.  The stick work is what comes next.  Those sticks can be bound together.  They can provide the bulk and mass of a beautiful centerpiece. They can be stuck into the soil, one at a time.  They can provide the stalk of a great winter topiary for a sideboard in the dining room.  They can be woven around a form.  Our bunches of fresh cut twigs delight and challenge me, in the beginning of that season when the landscape is going dormant.  I find that the best antidote to loss is taking on the responsibility for a life that goes on.  A gorgeous winter garden helps to take the sting out of experiencing a garden going down for the winter.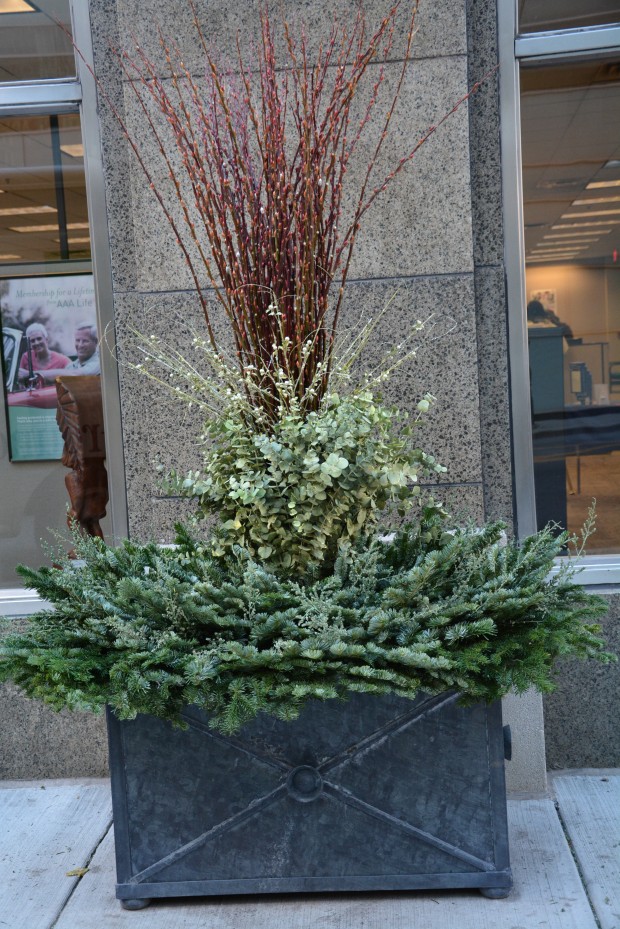 Nature provides a backdrop which is always interesting, and regularly spectacular.  Figure in the wind, the snow, the sunny days, the gray days, the cold, the ice, and that special quality which we call natural.  I have always posted entries to this online gardening journal of mine in real time.  This year, my idea is to pose the questions, post the pictures, and speak to the season, ahead of time.  In time for a reader to have time to consider all their options.  Rob loads in all manner of materials for the holiday and winter season.  I shop what he stocks at Detroit Garden Works for my projects.  Sticks, picks, greens, garlands, magnolia, grapevine, sinamay, weather proof ornament-his selections are beautiful.  Better than the beauty is the depth.  He takes great care to represent a wide range of interests.  Gardeners comprise a very big group with very diverse interests. Rob aims to engage each and every gardener.
We do anticipate the season to come-we have to. Rob and I shop for the holiday to come the previous January.  We order materials in small numbers.  We hope that each gardener will draw from a large group of a limited stock of materials to create a holiday and winter that produces an original and personal result.  The order we place for sticks for your works happens in August.  The holiday display at Detroit Garden Works takes weeks to create.  We think ahead, so you do not have to.  But this year, the weather may close out early.  Our winter usually commences in January sometime.  I am thinking the winter will come early this year.  There is much stick work to do.  If you plan to harvest materials from your yard, or from the roadside, or the empty lot next door-now is the time.
The curly copper willow that we installed in 12  pots downtown today is exuberant.  Lively. I do so like the warm color.  All of those curly stems are airy in a way only nature could create.  Our part was to put together an arrangement in which the twigs would celebrate winter season in a striking way.
Our expression of the winter season for this client is a relationship forged from cut twigs, fresh cut greens, dyed kiwi vine, sugar pine cones, gold sinamay, and fresh cut magnolia.  Any expression in the landscape revolves around a conversation.  If you are a gardener, you have a voice.  The season is another voice.  Nature is the first and foremost voice.  Multiple voices-harmonic.
All the voices interacting-love this.
Your winter season-love it up.