Really?  I didn't really believe the forecast for 8 inches of fresh snow and 40 mile an hour winds, but that forecast proved dead to right.  The snow started about 7am, and never let up until the afternoon.  Long about 11:30 we were experiencing blizzard conditions.  Then the wind.  Howling winds, for Pete's sake.  If you live in a northern gardening zone, I am sure this sounds like more of the same.  More of the same winter weather to my mind is just about intolerable, considering this is mid March.
We had 400 hellebores enroute from the west coast yesterday.  The trucker called an hour after his 8am ETA, to say he was having mechanical problems-he would be late.  Late meant that he and Rob were unloading the truck at 9pm last night.  Neither one of them wanted any part of unloading a truck today.  Though it took until 11:30 pm to get the plants safely stowed away in our greenhouse, we had three more deliveries today-all three at the height of the commotion.  Rob just rolled his eyes at me, as he and Steve were on their way outside for delivery number three.
The UPS truck in our drive summoned another UPS truck.  A boatload of packages were transferred from one truck to the other. What was up with that-I did not ask. This winter has tried each and every one of us.  I could not imagine being in the delivery business this winter. The weather was the top topic of conversation today.  Detroit is but a few inches short of a record snowfall that has prevailed since 1883.  As long as metro Detroit gardeners have suffered the misery of a vile winter that has gone on much too long, why not go for the gold?  Living through the most vile winter in over 100 years sounds better than a dispirited discussion of more of the same.
I haven't been able to much walk my garden in months.  The rose garden has been buried in deep snow.  The staircase up is a snow ramp.  The corgis have been confined to the deck.  Did I mention that it is perilously icy everywhere? These pictures are from the inside looking out the windows.  Looking out from the inside has been a way of life for longer than I would like.
I do have questions, as this is a winter of a length and a breadth that I have never experienced before.  What will happen with my crocus?  Will they stay below ground until all of the snow is melted and the ground unfrozen?  Will they come up late, and bloom as usual, but late?  Will they pass on making an appearance this year altogether?  Once the winter is by, will they emerge bloom and flop over in one day?  Will the forsythias and magnolias bloom?
Will my shrub roses have die back from the extreme cold?  Will their blooming season be delayed?  Will the June garden be all the poorer for our extremely cold winter and deep snow?  The garden rarely provides answers in advance.  There will be a garden this spring, the shape of which I cannot predict.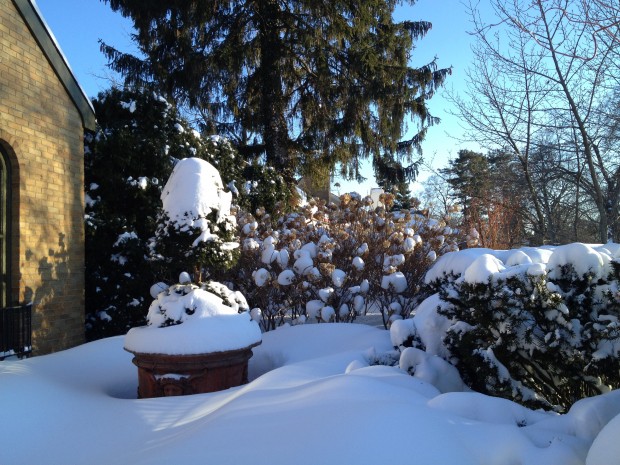 I am still interested in the fact that we gardeners in this zone have not experienced a winter with this level of extreme cold and extreme snow in 130 years.  This could mean that weather patterns are much bigger and longer than a human life.  As I have always suspected, nature is at the center of life.  People experience a piece, a chunk, a part – maybe just the second act of a much bigger play featuring five acts.  Maybe the past 20 years in which I have been cultivating my garden happened during an intermission.
Late in the day, the storm passed, and the sun came out. The winds moved on.  The clear sky and the still were remarkably beautiful.
Nature?  It is a cornerstone of my life, no matter what.  There are no promises.  Sometimes the outcomes are not happy. Most times the outcomes are unexpected.  Sometimes the outcomes are deliriously enchanting.  Sometimes the outcomes are dreary and unclear.  Am I along for the ride?  Sure thing.