Rob has been shopping in Belgium for at least 15 years. He has a considerable affection for the topography and natural landscape, as it reminds him of Michigan. The garden ornament has a solid and unaffected feeling about it. Many of the things he buys there have their roots in agriculture-cisterns, troughs, and the like. The pot pictured above comes from a pottery whose work he greatly admires. This will be the third year we have offered these Belgian stoneware garden pots. The come in three colors-taupe, gray, and black. The shapes are simple.  Though the shapes are smooth and graceful, the surface texture is gritty and rough, in a subtle sort of way.
That gritty texture and surface is typical of stoneware.  The name stoneware comes from the dense and hard quality of the clay body. This clay body, or type of clay from which a pot is made, has natural characteristics that result in pots more like stone than fired earth, or terracotta.  Stoneware pots are fired at a high temperature, and do not absorb water much after the firing. This inclination to repel water after firing makes this type of clay, and this type of pot, perfect for our climate.  Water that is absorbed by a pot which is them subjected to freezing can result in breakage.  Water expands as it freezes. This freezing action can shatter or break a clay pot. Anyone who has ever inadvertently left a machine made Italian terra cotta pot outdoors over the Michigan winter knows from whence I speak.  This stoneware is frost proof- this is great news for anyone who likes terracotta. Clay pots are made the world over. Clay dug from the ground in Philadelphia is very different than the native clay of southern France, or Italy. Not all clay is of a natural stoneware type. Pots made from stoneware clay bodies are of interest to us, and gardeners in our zone.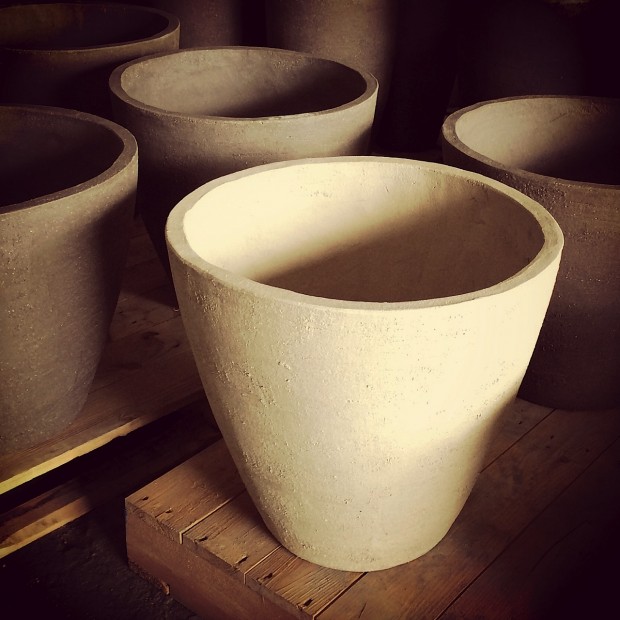 Some potters mix their own clay, or choose a clay body/mix that has been made available commercially, that suits their interest and intended use.  Porcelain is the material of choice for an artisan interested in a very fine and formal clay that can be thrown very precisely, and very thin. These large thick walled Belgian pots are made to hold many hundreds of pounds of wet soil without complaint. The natural clay is a friendly visual companion to plants that go in that soil. The texture is just enough, and no more. The gritty surface of this stoneware is a result of adding grog to the stoneware clay body. Grog refers to clay which has been fired, and then ground into hard particles of various sizes. Those particles are then mixed into the fresh wedged wet clay body before the pots are thrown.  As wet clay is incredibly heavy, there is a limit to how large and tall a pot can be thrown, before the clay starts to collapse from its own weight. In addition to providing great texture, both visual and tactile, grog helps provide the construction of a big pot with a little structure. The grog particles have been fired.  They will not absorb water, and melt.  Grog stiffens the wet clay, so larger forms can be thrown at one sitting.
Even so, very large stoneware pots may need to be thrown in stages. The lower portion may need to rest, and begin to harden, as in leather hard, before the pot can be made any taller. This accounts for one reason why large handmade pots are much more expensive than smaller pots that can be made in one sitting or throwing session. Another reason-the volume of clay consumed.  Very large French terra cotta pots are incredibly thick. Thin walled, large pots would not likely survive the heat of the firing. There may be many hundreds of pounds of wet clay in one pot. I would bet that clay bodies are sold by weight, and that weight can make it expensive to ship them. Of course as the water evaporates out of the pot, the weight is much less.  How a pot is dried, and how it reacts to the firing is a topic of much study.  Pots that have taken days to throw that break or explode in the kiln is a big loss in materials and time.  The cost of breakage becomes part of the cost of those pots that survive the firing. 
These stoneware "rocks" are forms that can be used as a sculpture or seat in the garden.  The shapes are all beautiful, and different.  They have an aura about them, as they have gone beyond function to another level.  I am sure every gardener would perceive and use them differently. Nor would they appeal to every gardener.
These pots seemed quite contemporary in form and color when I first saw them, but I have since learned that what they do best is take on the quality and character of their environment.   I have seen them used successfully in modern, and even quite traditional architectural settings. One client with a classic 1920's English tudor style house has a pair of these pots at the front door.  They look great.  They do not impose, or attract undue attention. They are simply and beautifully made. They look great, planted up. The statement they make when they are empty-sober and strong. I am not surprised that Rob would have them, a third time around. To follow are some of his pictures of the two containers that came in last week.  You can tell from his pictures, how much he likes them.
My discussion of the clay is cursory. I am not a scientist, or a potter.  I just love these pots.  If you have a further interest, you can read more about clay at  Hammill & Gillespie