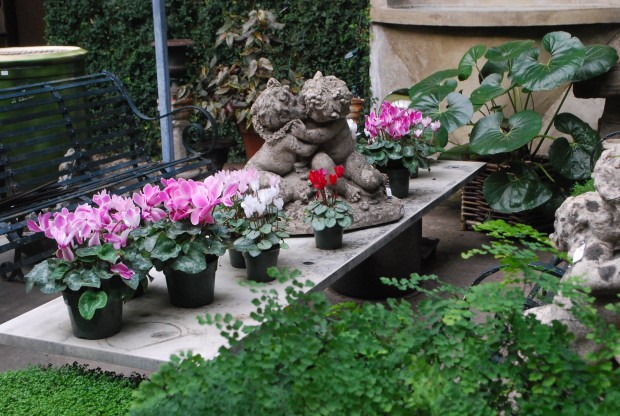 Regrettably, there are no plants in my life right now.  I think the high temperature for the day was 18 degrees, and the ground is covered in snow.  Not that I mind this-it seems so normal and ordinary.  I don't do much in the way of plants to help my situation.  I will admit to an aversion to houseplants-plants inside any building besides a conservatory or greenhouse just seems wrong.  All of the plants at the shop are huddled together in the one room with a glass roof.  This is not an especially attractive look.  The heat is set at a very chilly 45 degrees.  The garage has a rag tag collection of boxwood topiaries we are wintering for clients, a few espaliers, and some red dracaenas I could not bear to part with. I will spare you any images of this pathetic scene.
Most of my landscape design efforts revolve around the plants.  Their mature size and stature.  What they require to grow.  The color of their leaves.  Their texture and fragrance.  Their longevity, and ease of cultivation.  Woody landscape plants require stewardship, and thoughtful maintenenace.  Perennials? Successful cultivation requires a lot of time and committment.  But there are other elements that go into a great landscape that involve materials.  Materials for walkway, driveways, and terraces.  Materials with which to make shelter.  Materials for pots and containers.  Utilitarian materials.  Materials to spring on the landscape-just for the sheer joy of it.  Keeping up with the beautiful materials that are suited for outdoor use is a time consuming job.  The best time to explore landscape materials is that time when the pressure to make a decision for a specific spot is a few months away.
Stone is a landscape material with no end of possibilities.  Sandstone chopped into regular shapes is a great material for retaining walls.  This porous stone is an ideal place for colonies of moss to develop and prosper.  Shaped and thermal finished stone is utterly civilized, and easy to navigate.  Natural stone has an irregular surface which is pleasurable to the eye.  Local stone fits in.  Vintage stone has an aura that affects every other landscape element.
Concrete is a material with no end of incarnations.  Concrete aggregate is a beautiful material fo a contemporary driveway.  Cracked concrete sidewalks grayed with age have a charm I cannot really explain.  Stamped concrete-I am not a fan.  I like concrete in the landscape that makes no bones about the fact that it is concrete, not stamped to look like something it is not. 
Wood, that material that comes from trees, is available in lots of species, surfaces, and finishes-some predictable, and some unusual.  This sidewalk was installed from ordinary pressure treated lumber, scored into brick shapes, and dyed with black aniline dye. 

Reclaimed materials can be just as exciting as new ones.  These early 20th century fireclay road bricks made a great terrace for a 1920's English tudor style home.

Exterior rated glass tiles are a smooth and comfortable surface for a spa.

This building material was unknown to me until the moment I saw it.  What a beautiful surface it is for a contemporary home.  Most certainly this material would inspire the landscape design. 
This back porch of bluestone squares and dots features an unusual pattern installed with a common material.
This gravel terrace was finished in a thin layer of multicolored beach glass. 
A steel container with painted panels in alternating colors provides a big splash of color.
 Fabrics that can withstand the weather are of incredibly good quality now.  They resist fading and mildew.  This resin garden furniture from Gloucester would have a completely different look without all of the color provided by these fabrics.  Researching and choosing materials for the garden to come is a great way to spend some February time.