June 15th was my 68th birthday. I had never intended or planned to be 68, but there it was, and here it is. I will admit the idea and the reality of it stung some. Turns out I did not have to go that milestone alone. Rob and I have worked together 26 years, meaning he knows me fairly well. He knew I was coming up on a moment threatening to pitch me into the weeds. His idea was to counter that with peonies. Lots of them. He has good instincts. It is no secret that I have a big love for peonies. In the early 1990's, when we first started working together, I had rows and rows of peonies lined out like crops in a big block in one big section of my 5 acres. I would guess I had peonies numbering in the hundreds of plants. Divine, this. Every year, buffalo grass came up between the peonies. Did I plan for that grass?  No. Those peonies and that unexpected gorgeous grass was an unforgettable experience. The day before my birthday, bucket loads of peonies and cut branches of mock orange were delivered to the store. I was flooded with good memories.
Rob arranged and set the bouquet pictured above on my conference table.  A 68th birthday was beginning to look a little better. I am just as enamored of peonies now as I was 45 years ago. Happily, some things in a gardening life stay the course. It is good to know that despite the years that have gone by, my interest in plants is as strong as ever. And the interest in certain plants is a flame that still burns bright. I have no peonies in the landscape and garden at home that I have tended for the past 20 some years. But I have planted lots of them for clients. I am satisfied that I have done some small part to keep peonies a part of the landscape.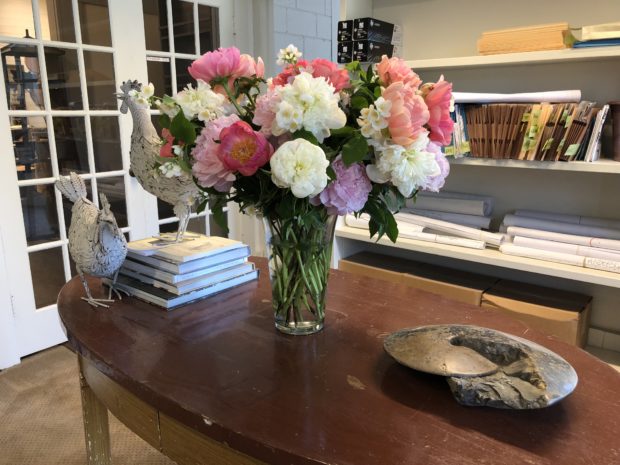 I have been a gardener for 45 years. I have been a landscape and garden designer for near as long. So what would I have to say after all these years in the profession, at the age of 68?  Every experience is an opportunity to add to your knowledge and understanding. Take that opportunity, and hold it close. Trust your own instincts. How you garden does not have to work for anyone else but you. If you design for yourself, indulge your eye and your inclinations. If you garden for others, be sure you represent your client a little more than you represent yourself.
Failure in the garden and landscape can be a good friend, truly. Fear of failure is mostly about fear. Failure is an emotionally charged word for what ought to be called plan B. The A plan is not necessarily the best plan. I have seen some E plans that were quite impressive. E plans are A plans that have been rethought, reconsidered, reworked, polished, and tuned up. Your E plans might be good, should you give them a chance. Every gardener matures, and evolves. Evolution is a process that can inform every gardening effort, if you let it. Give the eye that God gave you a chance to be.
Under no circumstances do I believe that the ability to generate great design is a gift. Great designing is the outcome of the mix of hard work, experience, imagination and nerve. Every person comes with a lot of things, standard issue. A confident and coherent voice surely comes with a person hood, though it may take some time to mature. That voice of yours just needs a free rein and some nurturing.  I do subscribe to certain gardening and design practices, as they work for me. What works for me is no more and no less than just that. Every gardener needs to discover what works for them, and proceed accordingly.  No doubt the best part of tending a garden is that there is the opportunity to team up with nature and make something grow. We all do that differently.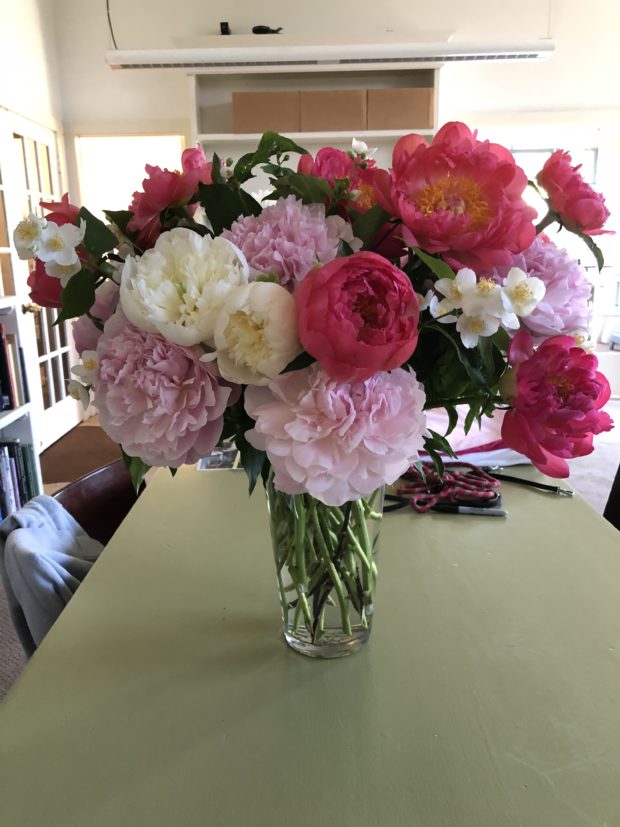 I know the cultivar names, history and growth particulars about all of these peonies. Rob knew that would be so. I did a good job growing peonies. That ability to grow them was not so special.  I wanted to grow them, so I took the time to learn how. But these cut flowers were indeed special. This beautiful and fragrant birthday bouquet conjured up gardening memories spanning many years. In my opinion, the best design in the garden and landscape calls up those memories and moments that are important.
I photographed my birthday peonies every day, after I had taken some time to simply enjoy them. They made me remember why I became a gardener. They made me certain that I had made a good choice to become a landscape designer. Turning 68 doesn't change that.
Some blooms held perfectly for better than a week.
The Coral Charm peonies maintained their form, but the color faded to a creamy pale yellow.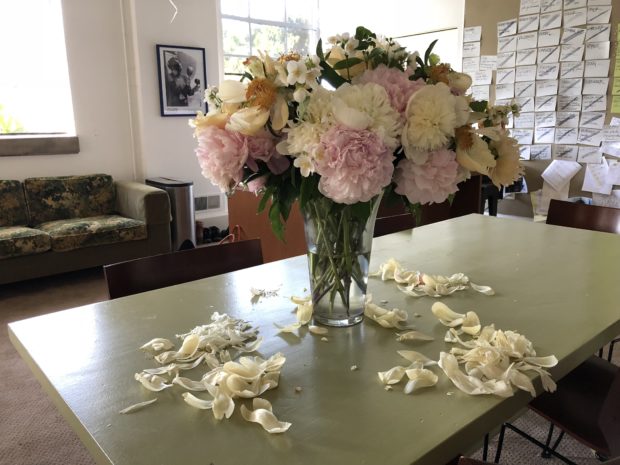 Just a few days ago, the petals began to drop. I could hear them hitting the table surface. That was a new experience of peonies. I cannot really explain why that sound was so enchanting. Except to say that I just turned 68.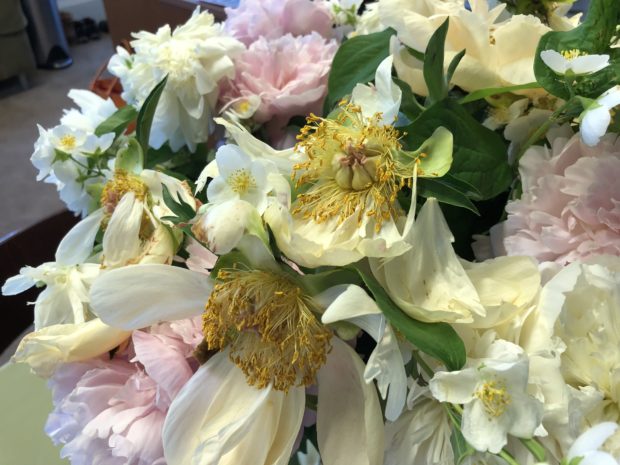 Al Goldner once told me that the only regret he had as a landscape designer was that he was never bold enough. That has always stuck with me, but at 68 I understand what he meant. There is time to do something with that. There is purpose, meaning and beauty in every step of a life.