Every warmer day, there are new signs of the damage sustained in the landscape from our once in better than a lifetime winter.  The news is discouraging.  Any gardener who has zone 5 or 6 plants in their landscape is feeling the side effects of a zone 3 or 4 winter. I do not know the cultivar of pine in this neighborhood garden, but I am quite sure these trees are bone dead.  I was a long ways away, but a close inspection was unnecessary.  That saturated orange brown color on every needle but for the very bottom branches-very bad news.
Our past winter was a once in 130 year event.  Record cold. Record snow. The ice on the Great Lakes-3 feet thick.  The ice on the Great Lakes are still 40% covered with ice.  Some say it will be well into June before all that ice melts.  Chilly is the prediction for our immediate future.   This specialty and marginally hardy spruce grew and prospered in this client's garden, for going on thirty years.  This past winter proved too be too cold.  Just too cold.  No one could have foreseen a winter like this, nor could this spruce have been protected.  Unless you are older than 130 years, this is this first time you have seen a winter this fierce.
Like other stands of mature bamboo I have seen this spring, the culms and leaves are dead.  It is impossible to predict yet if the roots survived.  Time will tell.  We have had a very long period of mild winters.  That length of time was long enough to tempt gardeners to push the limits.  My magnolia stellata bloomed today.  The flowers are small, and look like wet kleenex.  Not that I am complaining.  I am shocked it is blooming at all.  Planting magnolias in a northern zone is a leap of faith.  A story about hope. Our winter was very rough, and every gardener in my zone is being educated daily about how that winter is intruding on our spring.
I have not seen a single Alberta spruce untouched by the winter.  Every neighborhood I have visited has alberta spruce burned on the south side.  Some very exposed locations show burn all around.  Fierce burn.
Many landscapes show damage which is hard to understand.  Some plants are untouched.  Others are burned all over.  Others are burned in specific spots.  Some have been killed outright.  Do I have a simple and swift explanation-not really.  Some species of plants that are marginally hardy in our area-many of these are in the killed outright list. Do I have zone 5 and 6 plants in my landscape-yes.  A once in 130 year winter cycle would not prevent any gardener from testing the limits.  The fact is, my 20 year old  garden is but a short intermission in the bigger scheme of things.  This spring is making me realize that nature bats both first and last.  There is no negotiating once a winter tests the limits of cold hardiness..  Too cold is simply too cold.  No zone 6 specialty conifer could not have fared well this past winter.  I have no easy and simple answers.
I love boxwood as much as the next gardener.  Every Green Velvet boxwood in my garden at home is unscathed by this past winter.  They are green and good to go.  This boxwood hedge in a neighborhood garden south of me did not fare so well.  The cause of the damage?  Salt spray generated by cars driving by at a brisk speed is a toxic bath that can damage boxwood.  Extremely low temperatures can test boxwood cultivars intended for warmer zones.  Exposed plantings of boxwood were bleached by sun reflected off of deep snow.  A boxwood that went into the winter dry can be severely damaged by cold winter winds. Evergreens need to be well watered in the fall.  They cannot absorb water from the roots once the ground freezes.  Water evaporates quickly from evergreen leaves given cold temperatures, wind and sun.  The damage on this hedge is hard to pinpoint. How that damage should be handled-it is too early to tell.
Boxwood is a broad leaved evergreen.  It needs to be well watered and juicy before winter.  Once the soil freezes, no boxwood can access the water it needs to keep the leaves juicy and green.  The water available at the root is turned off.  Strong winter winds makes the water in the leaves evaporate at an alarming rate.  An evergreen cannot replace the water it looses by evaporation over the winter.  What that leaf has to sustain it in November will have to do for the rest of the winter.  An evaporation rate that exceeds the store of moisture means leaves will dry out and die.
The boxwood leaves on the interior of the shrub, protected from salt winter wind and sun scald may survive the toughest winter.  The damage I see on the boxwood at the shop makes me want to rush out there with my pruners. Notwithstanding my instinct to remove any sign of damage, I will wait.  Viable branches that have lost their leaves will releaf, given some time. Boxwood damaged by repeated soaking in road salt may not recover. Marginally hardy varieties of boxwood may be dead from the cold.  Hicks yews are not so wonderfully hardy.  Yews pruned after August show striking signs of damage.   I am inclined to wait and see how all of my plants will respond.  Plants have a will to live.  I would advise giving them the room they need to recover.
A sick and challenged plant needs time to sort out the insult and injury on their own.  This is my opinion.  This spring following a once in a century winter-what do I know what will be?  I do know this section of boxwood has been struggling with fungus for 4 years.  An extraordinarily bad winter may have done them in.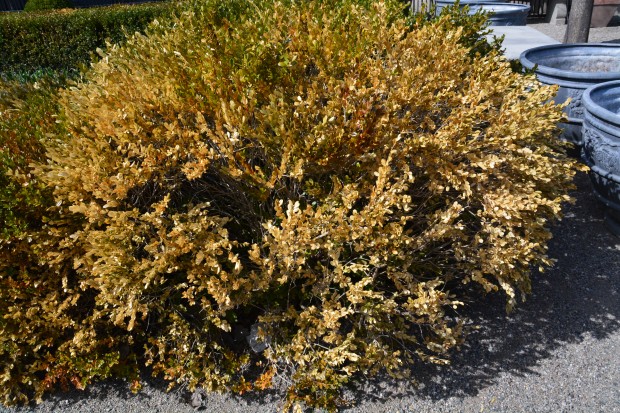 I have a plan to grieve privately about the damage to my beloved boxwood hedge, and wait.  I know I need to wait for the plants to respond.  Once they respond to warmer weather, I will know what to do.  It is not clear yet what is lost, and what is burned, and needs pruning.  Having never experienced a winter like this before, the last thing I want to do is interfere with the natural order of things.  If you are as passionate a gardener as I am, the waiting will be horticultural hell.  But all of us would go to hell and back for a garden, wouldn't we?