Though we were focused on finishing a landscape project last week, we did manage to get some of our fall container plantings done. Though I have said it before, I will say it again. A celebration of the season at hand in containers is an opportunity to make an expression of the garden that is no only personal, it is immediate. The daffodils I planted yesterday are months away from their spring flowering. The trees I planted a month ago will take 10 years to get hefty. The vision I have for my landscape may be many years away from that perfect moment. I can be patient. But I can be road ready, too. Fall container plantings are a delight the minute they get finished.  They do not need to much in the way of water or deadheading.
They celebrate the materials of the harvest. My trip to my local farmer's market this morning was an education in what is available for containers for fall.  Chrysanthemums, asters, and grasses seeding were abundant.  Ornamental cabbage and kale-they are so beautiful right now. Cut broom corn, millet and sorghum-how I love how our history of agriculture informs and enriches the garden. Rob's pumpkin collection on display at the shop right now is a delight to the eye. George is 2 hours away from us. But his breeding for tall and thin pumpkins with beautiful stems is a look we admire. The summation of  Rob's relationship with George is a collection of pumpkins that speaks to any gardener's love of anything garden.  Rob's collection of pumpkins and gourds-don't miss it.Tomorrow is the second day of our pumpkin fest.  If you are a gardener who delights in the garden, come if you can.
We have had a very hot and very dry summer. The watering was endless. The coming of the fall, with cooler temperatures and torrential rains is a relief. Planting seasonal containers is a lesson about how the seasons change, and that joy that is all about a gardener's participation. I would encourage every gardener to participate in the seasons.  I do. That seasonal work enriches my gardening life.
fall containers with broom corn and cabbage
fall container with a centerpiece, purple cabbage, and creeping jenny
fall containers
fall pot with a hydrangea on standard, white ornamental cabbage and creeping jenny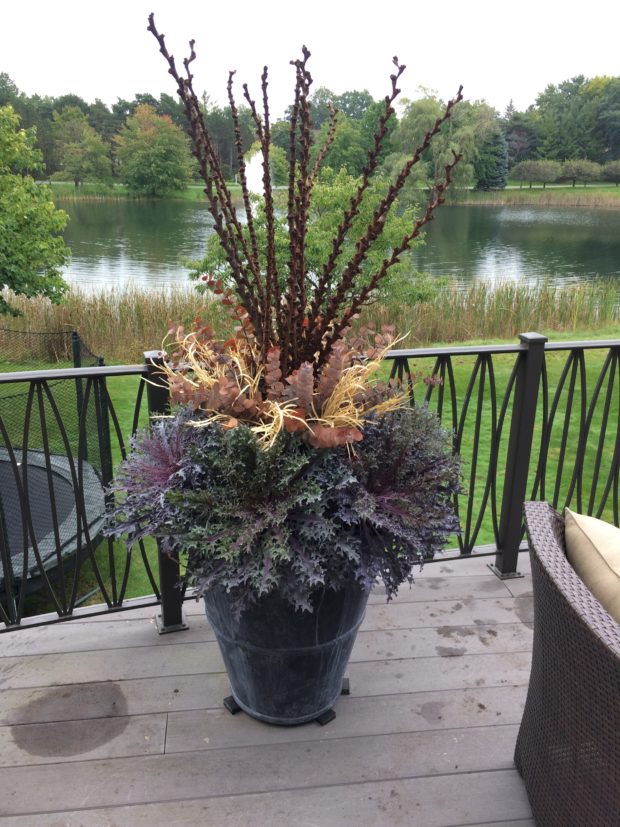 fall container with dried ladder branches, preserved eucalyptus and peacock kale
fall container in front of Detroit Garden Works that includes an elegant feather grass at the center
fall in the round
fall container
fall container arrangement
deck pot planted for fall
The fall season in Michigan – sublime.
Save
Save
Save